Well Known Member
Original poster
Pro Member
Pro Member
Followers

3
Following

0
227
99
Aug 9, 2021
Name

Sandy
Country

United States
City/State

Astoria, Oregon
Yes, the beautiful cathedral of Chartres. More correctly this is the Cathedral of Our Lady of Chartres. The architect who built it is still unknown, it was erected in record time, twenty-five years and is gorgeous. The wealthy gave money, the rest gave their time. Their time was pulling carts with the limestone blocks on them from the quarries to the building site, stopping hourly for prayer and meditation.
When you drive south from Paris on N20 in the summer you pass through fields of golden wheat. Then you suddenly crest a ridge and see the cathedral seemingly levitating in a field of wheat. It is an illusion. The city of Chartres is in a valley and the cathedral built upon a hill where religious places have been built for thousands of years. It is special. Pilgrims in the past who would hike from cathedral to cathedral would see the Chartres cathedral seemingly levitating as they approached it for a number of days. They were, no doubt, suitably impressed.
This quote is from Wikipedia and is a good summary:
"Since at least the 12th century the cathedral has been an important destination for travellers. It remains so to the present, attracting large numbers of Christian pilgrims, many of whom come to venerate its famous relic, the
Sancta Camisa
, said to be the tunic worn by the Virgin Mary at Christ's birth, as well as large numbers of secular tourists who come to admire the cathedral's architecture and historical merit."
This photo is of the prayer candles.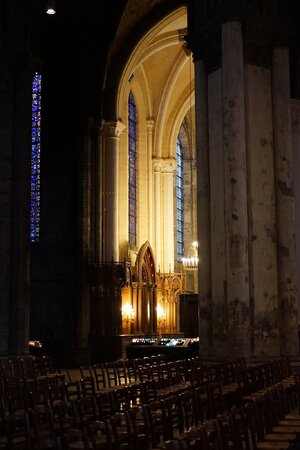 Last edited: