Well Known Member
Original poster
Followers

6
Following

5
338
338
Jan 9, 2021
Name

Afonso Santos
Country

Portugal
I wanted to share my on-the-go solution and hear from yours too.
Procrastinating the purchase of those expensive 180GB (R:800/W:700)
CF-A cards
, and since I have not yet once fully saturated my A1 buffer (shooting 10-20fps uncompressed RAW, sometimes in APS-C mode to get 900mm max reach without using TCs), I am sticking for now with the use of 128GB (R:300/W:299)
UHS-II SD cards
. Once/if a card gets full (or whenever I get a break from shooting and it already contains some valuable images) I use an R:300 SD-UHS-II Sandisk card reader to make a first copy (SOC JPEGs and RAWs) to my iPad-pro (USB-C port - USB-3.2 speeds), then use the iPad to do an initial culling round (of the SOC JPEGs because iPad-pro cannot yet display/render the A1 RAWs) and/or show the fresh images to someone asap (without having to peek at the on-camera diopter adjusted viewfinder), but because iPad's internal SSD storage will fill up quite quickly as well I then proceed to off-load the images (only the RAWs) to a 2TB SSD (
Sabrent XTRM-Q
) external ThunderBolt-3/USB-Gen2 (40Gbps/10Gbps) drive.
Once I arrive home the Sabrent connects either to my WFH windows-10 PC (with a 40Gbps Thunderbolt-3 USB-C port, but a normal USB-C Gen2 10Gbps port would also work with this versatile external driver, only slower) for another backup, and then to the studio MacMini (wich has 4x 40Gbps Thunderbolt-3 USB-C ports) for direct (without making a copy to the Mac's internal SSD) final RAW culling and editing.
Final JPEG exports (3240px short edge 98% quality) are also done to the external Sabrent SSD drive (with stays attached to the MacMini until I go out the door for another shoot) and then I might create an album on the iPadPro (always using the 2TB SSD Sabrent drive) with those edited/exported JPEGs, finally replacing the original SOC JPEGs that I kept on the iPad until the RAW culling+edit+export workflow was complete.
That serves as a JPEG backup and also as a show-in-person album.
Most RAWs are deleted after I export the edits, I only keep the portfolio grade RAWs (100 out of 50.000+ in last 4 years) as it would cost me 5TB of storage to keep 50.000 x 100MB A1 uncompressed 50mpx RAWs in the next 3 years.
Even the 4* rated RAWs I only keep for about 1y-2y max, and delete them (after a final re-edit and export at full res) if no prints where ordered for them.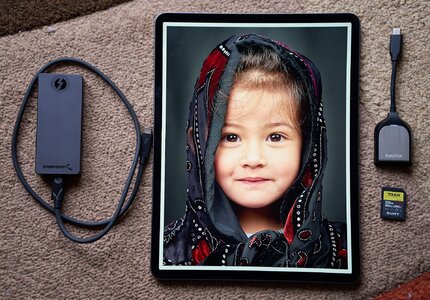 Last edited: