Followers

106
Following

26
1,196
758
Mar 1, 2020
Name

Tim
Country

United Kingdom
City/State

Shropshire
There are two places that you can upload images to: the
forums
and the
gallery
. As each works a little differently I'll explain both below:
Forum Uploads
1. Simply click the "Upload Images" button at the bottom of the post editor and select the images that you want to upload.

2. Now select the option to insert either a thumbnail image or full sized image.

3. Alternatively if you have items in your gallery then you can click the "Gallery Embed" button instead and select the images that you would like to insert.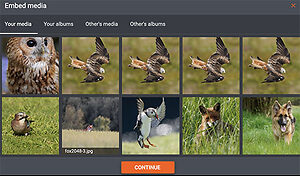 Please note that all images larger than 2048px at the longest edge will be automatically resized to 2048px. This helps to keep the file sizes sensible which means my hosting cost don't explode and threads/posts don't take a long time to load, especially on mobile connections. If you want to display larger images you can also link to other platforms like Flickr.
Gallery Uploads
When uploading to the media gallery you can either upload images to the pre-defined albums such as wildlife, landscape, portraits etc.. Or you can create your own personal albums.
When you upload to the pre-defined albums these images will be visible to everyone. If you create a personal album then you will be able to apply additional privacy settings if you wish.
1. Select "Gallery" from the main site menu.
2. Click the "Add Media" button that is located top right of the page.
3. Now choose between: uploading to a predefined album, creating a personal album, or uploading to an existing personal album.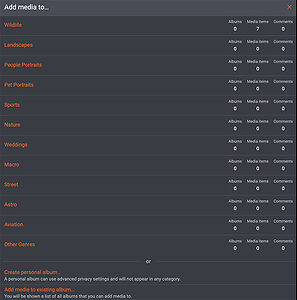 4. If you have chosen to create a personal album then you'll get the following additional privacy options: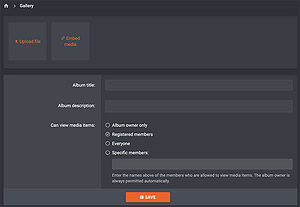 5. Hit the "Upload File" button to upload your images then enter appropriate descriptions in the fields available.
6. Finally hit save to publish your images to the gallery.
Last edited: