Active Member
Original poster
Pro Member
Pro Member
Followers

0
Following

0
39
57
Feb 7, 2021
Name

Marco
Country

Switzerland
City/State

Diepoldsau
Hello everyone
Now it's finally official, the first photo trip or photo safari under my personal direction to Botswana is being planned
Actually, it should have taken place this September, but with Corona this was not a pleasant situation for me or for my potential clients. That's why I decided to put the trip on ice till 2023.
So if you are interested in a first-class photographic nature and wildlife experience in September 2023, then get in touch with me. I can then give you more details, explain the process and respond to specific questions. If you are still interested, I will add you to the list of participants.
I will go through this list again at the beginning of 2023 to confirm the booking via your payment of a 30% deposit.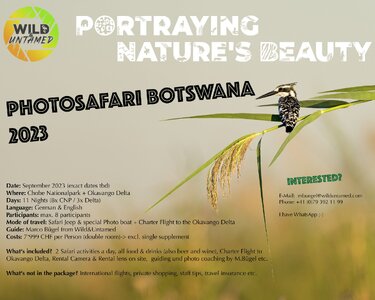 As you can see on the flyer, the number of participants is limited to a maximum of 8 people. This is the only way I can take care of everyone equally, and I also make sure that we are not too many people, who could get in each other's way - no bad compromises here!
I guarantee you more photographic highlights and success within 12 days than you would have there on your own in 3-4 weeks.
Language on site will be German + English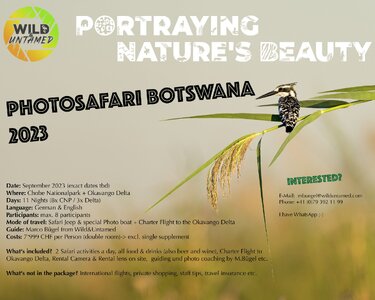 If you're interested, don't hesitate to contact me - it's gonna be EPIC
Many thanks and greetings
Marco