Welcome to my Sony E-Mount lenses guide. If you are unsure which lenses are supported with your camera or would simply like to know which are the best lenses to buy then these guides should help.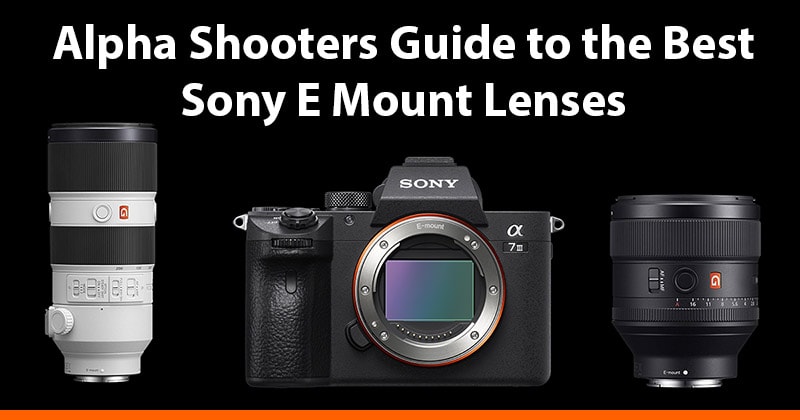 If you are new to the Sony mirrorless system then you may not be aware that Sony makes two different types of E-mount lenses.
There are the Full-frame E-mount lenses (FE) which are designed for cameras like the full-frame Sony A7 series and the A9 and then there are the APS-C E-mount lenses (E) designed for cameras with an APS-C sensor like the Sony a5000, a5100, a6000, a6300, a6400 and a6500.
Because the E-mount is the same for both the full-frame and APS-C lenses you can use APS-C lenses on full-frame cameras (using crop mode) and you can also use full-frame lenses on APS-C cameras if you wish, this is fully supported by Sony.
Sony E-Mount Lens Guides
These guides cover the best E-Mount lenses available today from both Sony and third parties.

Full-Frame E-mount Lenses
APS-C E-mount Lenses
Third Party E-Mount Lens Guides
If you are only interested in third party Sony E-mount lenses, then the following guides should help.

Sigma E-mount Lenses
Sony E-Mount Macro Lenses
My Sony E-mount macro lenses guide covers APS-C and Full-Frame (FE) native E-mount macro lenses from both Sony and third-parties.

Sony Macro Lenses
Sony E-Mount Telephoto Lenses
My Sony E-mount telephoto lenses guide covers APS-C and Full-Frame (FE) native E-mount macro lenses from both Sony and third-parties.

Sony Telephoto Lenses