If you are lucky enough to already have the Sony a7 III sitting inside your gear bag, or perhaps thinking about picking one up, then you might like to know which are the best accessories to pair with the a7III.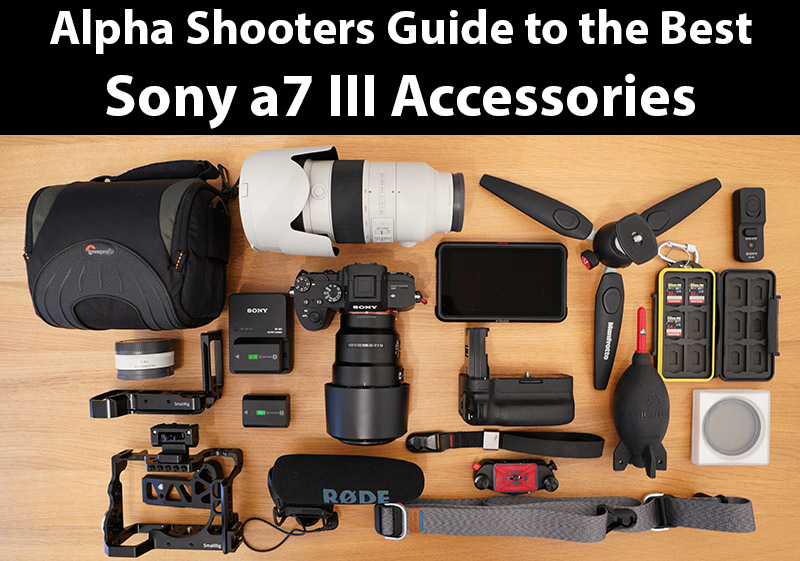 I've spent quite some time reading reviews to figure out which are the best Sony a7 III accessories to buy so that you don't have to. I also own and use many of the accessories mentioned here myself with my own a7 III and other Sony Alpha cameras.
Although this guide is primarily for the Sony a7 III, I think it also goes without saying that many accessories here like straps, cases, cleaning gear and tripods will work with many other camera brands and models too.
If I've missed anything that you think should be included, or you have your own experience with any of these accessories, then please do let me know in the comments at the end of this article.
Sony a7III Accessories
1. Batteries, Battery Chargers, Battery Grips
2. L-Brackets / Plates, Grip Extensions
3. Screen Protectors / Shields
4. Neck and Wrist Straps, Clips
5. Cases and Bags
6. Filters – ND and Polarizing
7. Waterproof Housing
8. External Flashes, Radio Receivers and Commanders
9. Lens Adapters
10. Remote Controls
11. Intervalometers
12. Microphones
13. Tripods and Monopods
14. Cages
15. Gimbals & Stabilizing Rigs
16. HDMI Recorders and Monitors
17. Tethering
18. SD Cards and Card Readers
19. Camera & Sensor Cleaning
20. Replacement Parts
21. Storage and Backups
22. Lenses
1. Batteries, Battery Chargers, Battery Grips for Sony a7III
Sony mirrorless cameras packed full of technology are always going to need lots of juice. So here are your best options for replacement batteries, chargers, and extended battery grips for the Sony a7 III. For a more comprehensive guide to batteries and chargers for the a7III, see my guide here.
Sony NP-FZ100 Battery
The Sony a7 III uses the new NP-FZ100 which doubles the battery life compared with the smaller NP-FW50 battery found in the a7 II. Still, if you are shooting all day then you will probably go through at least one battery. Personally I've never gone through more than two NP-FZ100 batteries in one day whilst shooting wildlife and motorsport (stills) with my a7 III. That said, I still have 4 of these batteries just to be safe!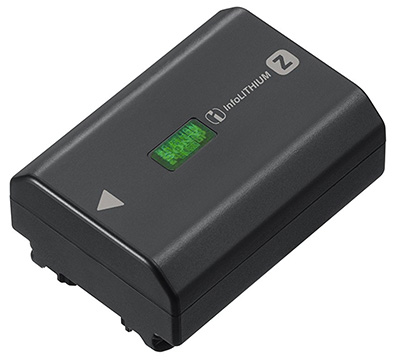 ---
Wasabi NP-FZ100 Battery
Wasabi batteries are affected by the latest a7III firmware update, so if you do purchase these batteries you will have to OK the warning message each time you turn on the camera, and also make do without the percentage remaining indicator. Some earlier versions of this battery also gave an an error message saying that the battery was not the right type and to use a different battery, this was fixed in later versions. The Wasabi NP-FZ100 has a capacity of 2000mAh, which is 280mAh less than the official Sony NP-FZ100 battery.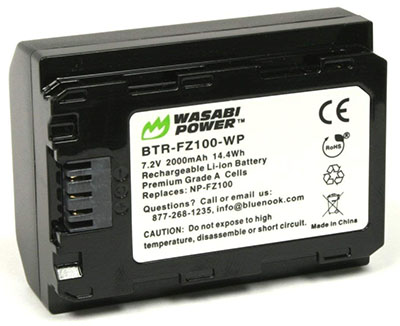 Capacity: 2000mAh
Battery life stills: 1500 shots (approx)
Battery life video: 2 to 2.5 hours (approx)
Recharge time (with Wasabi charger and wall adapter): 180 minutes (approx)
Recharge time (in camera via USB-C): 300 minutes (approx)
---
Newmowa NP-FZ100 Battery & Dual Charger
Newmowa are also selling their version of the NP-FZ100 but only as a bundle right now. You get two NP-FZ100 batteries and a dual charger for more or less the same price as an original Sony NP-FZ100 battery. Reviews indicate that they appear to work, but charging time is very slow compared to the official Sony batteries and charger. However, just like the Wasabi batteries, these Newmowa batteries are also impacted by the latest a7III firmware update meaning you'll have to OK the warning message and lose the percentage indicator. The Newmowa NP-FZ100 has a capacity of 2280mAh, which is the same as the official Sony NP-FZ100 battery.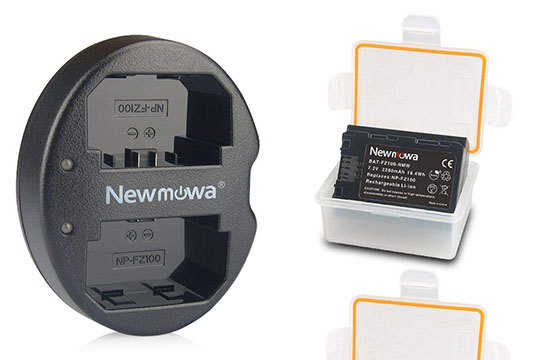 Capacity: 2280mAh
Battery life stills: 1800 shots (approx)
Battery life video: 2 to 2.5 hours (approx)
Recharge time (with Newmowa charger and wall adapter): 200 minutes (approx)
Recharge time (in camera via USB-C): 300 minutes (approx)
---
Patona NP-FZ100 Battery
The Patona NP-FZ100 third party battery is only available in Europe. However, just like the other third party batteries, Patona are also impacted by the latest a7III firmware update. The Patona NP-FZ100 has a capacity of 2040mAh, which is 240mAh less than the official Sony NP-FZ100 battery.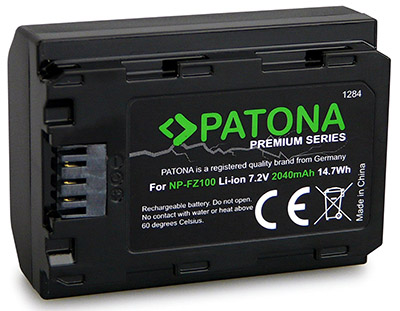 Capacity: 2040mAh
Battery life stills: 1500 shots (approx)
Battery life video: 2 to 2.5 hours (approx)
Recharge time (with Patona charger and wall adapter): 180 minutes (approx)
Recharge time (in camera via USB-C): 300 minutes (approx)
---
Sony BC-QZ1 Charger
The Sony a7 III does not include the Sony BC-QZ1 charger in the box. I can only guess Sony needed to save a little money somewhere with all the technology they packed into the a7 III, and so the charger was dropped. You can still charge via USB, but this takes approximately 5 hours to fully charge one official NP-FZ100 battery, compared with only 2.5 hours when charged via the Sony BC-QZ1 charger.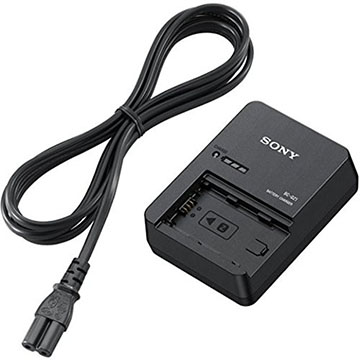 ---
Sony NPA-MQZ1K Multi Battery Adaptor Kit
The Sony NPA-MQZ1K multi battery kit might be a very useful addition to your a7 III if you shoot very long video sessions and need as much power as possible. This kit can charge four batteries (NP-FZ100) in approximately 480 minutes. It also allows you to power two USB devices as well as the camera at the same time. The NPA-MQZ1K also includes two NP-FZ100 batteries, a cable protector and a mounting plate. You can find full details on Sony's website here.
---
Sony VG-C3EM Battery Grip
The Sony VG-C3EM battery grip is crafted from the same materials as the a7 III and it's also weather sealed. The grip holds two NP-FZ100 batteries, thus doubling your shooting time, and can also be charged via the a7 III's USB port.
As well as the shutter release button for when you are shooting in portrait orientation, there are also four programable custom buttons and an AF joystick.
You do need to remove the battery door to attach the grip, which slots into the battery compartment on your a7 III. However, the door is easy to remove thanks to a small switch on the door itself.
The battery tray does unfortunately feel rather cheap and flimsy, otherwise this is a fantastic grip if not somewhat overpriced. I'm using it on my own a7III and find that as well as extended the battery life, it also helps with the ergonomics enormously. Read my Sony VG-C3EM Review for a closer look at this grip.
---
Meike MK-A9 Pro Battery Grip
If the official Sony battery grip is too expensive for your tastes, then thankfully Meike have a solution. Their MK-A9 Pro battery grip is very similar to the Sony VG-C3EM, yet it's almost a third of the price. The grip itself doesn't feel as nice as the Sony, but surprizingly the battery tray is actually better built. The button layout is the same, but it is missing the lock dial on the shutter button, so you'll need to be careful not to inadvertently press this when shooting in landscape orientation.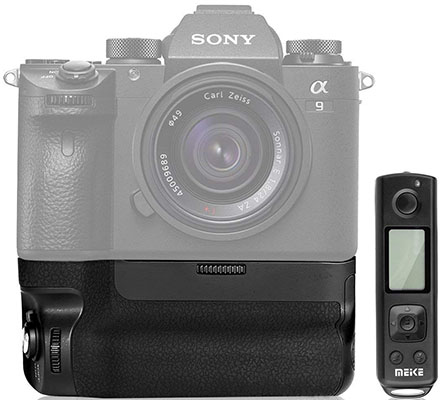 Meike actually trumps the Sony grip by providing a remote control that works up to 100 meters with a 2.4Ghz wireless transmission. It can be used to control the shutter in Bulb mode or set interval time shooting (time-lapse). This is really quite useful since the a7 III does not provide any time-lapse functionality.
A lot of people will purchase the Sony simply for continuity reasons (myself included), but if this doesn't bother you then you certainly can't go wrong with the Meike MK-A9 Grip.
Despite its product name (MK-A9), this grip is compatible with the a7 III. Read my full Meike MK-A9 Pro Battery Grip Review for a closer look at this grip.
---
Anker PowerCore 20100mAh Portable Charger
You can also charge your a7 III via usb whilst on the move. My personal favourite portable charger is the Anker PowerCore 20100mAh portable charger. Although designed for smartphones and tablets, they are also great for charging your a7 III on the go via USB. The charger has a capacity of 20100 mAh, and the offical Sony NP-FZ100 battery is 2280 mAh, so you can recharge your a7 III approximately eight/nine times.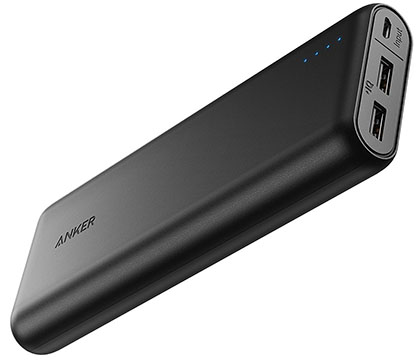 ---
My Thoughts on Third Party Batteries and Chargers for the a7 III
Although I have plenty of third party NP-FW50 batteries for my a6000/a6300/a6500 and a7R II, I'll be sticking with the original Sony batteries and chargers for my a7III, at least until the third party options have been tried and tested for a little longer. As if my a7III goes up in smoke due to a dodgy battery, it's unlikely that Sony will be replacing if for me. However, if you have taken the plunge with a third party battery for your a7 III, it would be great to hear how you are getting on in the comments below.
2. L-Brackets / Plates, Grip Extensions for Sony a7III
The Sony a7III certainly has a lot of technology packed into a small body, although this is great when it comes to travelling light and packing small, some may find that it's not the most comfortable camera to work with, especially if you are coming from a much larger SLR. Thankfully, as well as the battery grips mentioned above, there are a few more ways that you can improve the ergonomics of your a7 III, here are some of the most popular.
SmallRig L-Bracket
As well as offering easy mounting to tripods with the Arca-Swiss compatible mounts, the SmallRig l-bracket also doubles up as a grip extension, giving you somewhere to place your pinky finger if you are fed-up with it hanging off the bottom of your a7 III. The l-bracket is very well made, and includes a magnetic allen key housed on the bottom of the grip for easy attachment.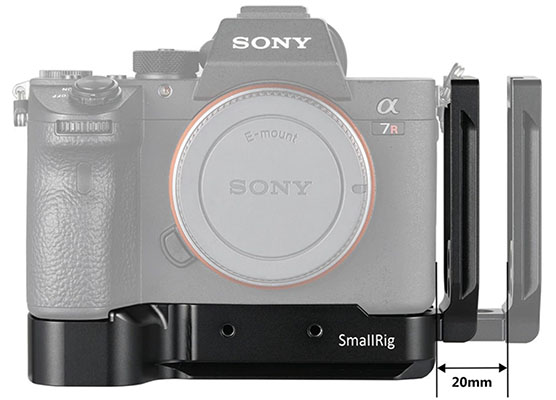 You can easily access all of the cameras ports and battery compartment with the l-bracket attached. My only gripe is that you have to really tighten the single fixing screw for a secure fit to the camera body. Still, this is my l-bracket of choice that I'm currently using. I've also written a short review of the SmallRig L-bracket.
---
Really Right Stuff L-Bracket
The RRS L-Plate has been designed to fit the Sony a7 III perfectly. You are still able to access all of the cameras ports, and just like the SmallRig l-bracket there is also a magnetic storage space for the included allen key. There is space to rest your pinky finger, and the l-bracket is fully arca swiss compatible. However, unlike the SmallRig l-bracket, you will need to remove the battery door to attach it.
The only real downside of the RRS bracket is the price, at around $200 it's 3-4x the price of the SmallRig! Still, if you want the best then this is it.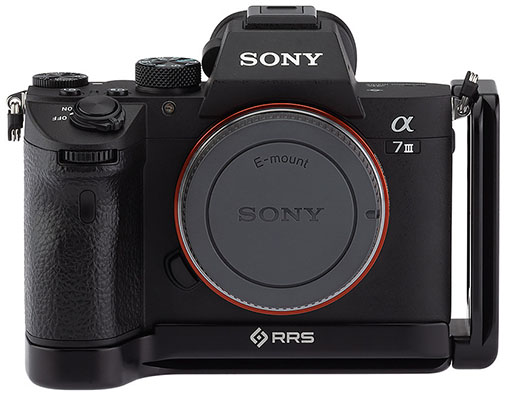 ---
Sony GP-X1EM Grip Extension
The Sony GP-X1EM increases the height of the built-in grip on the a7 III and gives you somewhere to rest your fingers. The grip is very well made from aluminum and rubber, and it also matches the same color and texture that you will find on the a7 III.
Unfortunately the GP-X1EM does block access to your cameras battery door, so you will need to remove it to change the battery. This isn't ideal but since the new battery in the a7III lasts so long, it shouldn't prove to be too much of an inconvenience for many shooters.
---
Meike MK-X1EM Grip Extension
The Meike MK-X1EM is very similar to the Sony GP-X1EM grip, but it costs half of the price. Just like the Sony grip, you will also need to remove the grip to gain access to the battery.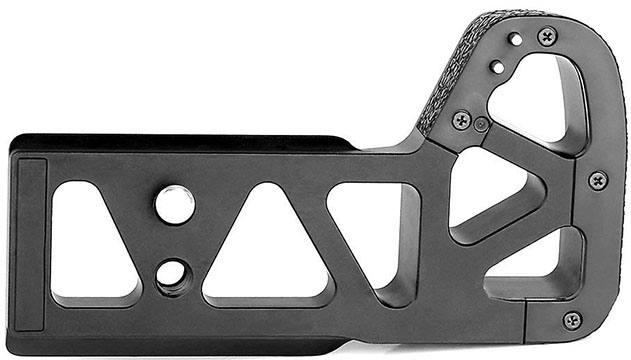 ---
3. Screen Protectors / Shields for Sony a7III
The Sony a7 III has a new touch screen, so you need to be a little careful about which screen protector you put on it. Pick the wrong protector and you might find the touch screen is no longer as responsive as it should be, or even no longer works at all. Thankfully the following screen protectors work perfectly on the a7 III.
Sony PCK-LG1 Screen Protector
Sony's official screen protector for the a7 III is the PCK-LG1, but as usual with Sony it's not the cheapest. You'll find that the PCK-LG1 is labelled as the screen protector for the Sony a9 in many stores, but rest assured this is also supported fully with the a7 III. You can check the compatibility information here on Sony's website.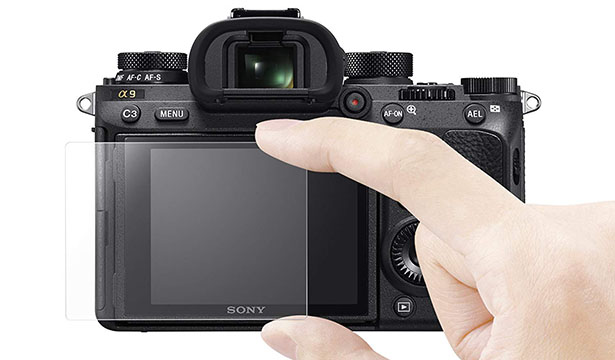 ---
Expert Shield
The screen protector from Expert Shield is the screen protector that I'm currently using on my a7 III and it works perfectly allowing you to make full use of all the touch gestures. There are three different versions of this protector: anti glare, crystal clear, and glass. I'm using the crystal clear version as it's much less likely to break when you apply it than the glass version, which I have broken before whilst applying.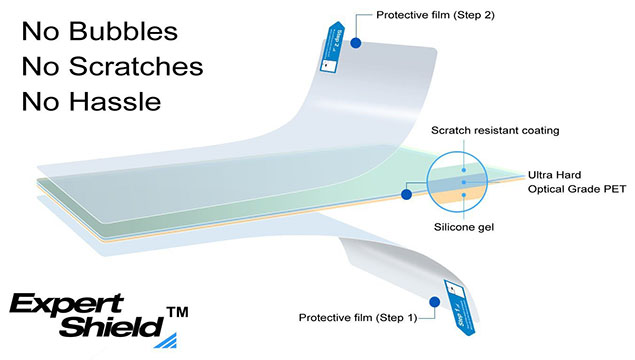 ---
4. Neck Straps, Wrist Straps, Clips for Sony a7III
The neck strap supplied with all of Sony's Alpha cameras including the a7 III is pretty thin, and I don't find it to be the most comfortable strap for extended periods of use, especially when using heavier lenses like the FE 100-400mm GM (my review here). I also sometimes like to use a wrist strap, or clip my camera to a belt or rucksack. This is certainly not the most comprehensive list of straps, but I've been using Peak Design for quite some time now and can certainly attest to their quality as well as their customer service.
Peak Design Slide / Slide Lite
The Peak Design Slide can be worn as a sling, neck, or shoulder strap. It uses internally-padded nylon webbing has a smooth side that glides over clothing in sling mode and a grippy side that prevents slipping in shoulder mode.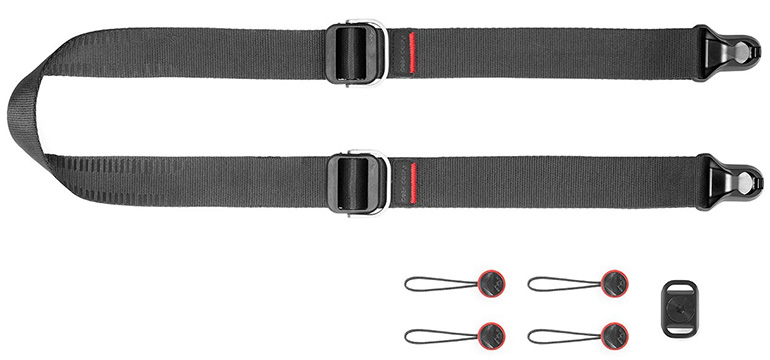 Peak Designs unique Anchor Link system connects quickly with dual connection points to keep your camera more stable than traditional sling straps. There are two versions of this sling, a full sized version with a strap width of 45mm, and a lite version with a strap width of 32mm. I've been using the full sized version of this strap for over a year, but it's overkill for a mirrorless cameras like the a7 series, so I'd recommend going with the Lite version which I've also since picked up and now the full sized version never gets clipped on!
---
Peak Design Cuff
The Peak Design Cuff is a great way to protect your camera from accidental drops. It connects to the a7 III via Peak Designs anchor system and the wrist loop magnetically locks in the open position, or comfortably cinches down on your wrist for added security. It took me a little while to get used to the magnetic lock, but now I wouldn't want to be without this strap.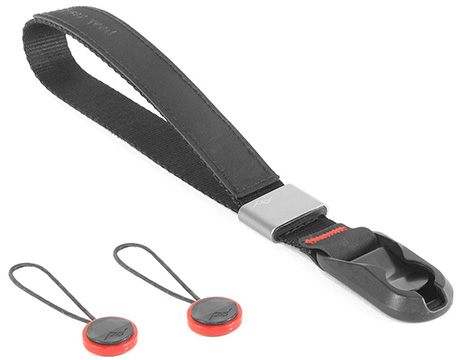 ---
Peak Design Capture Camera Clip
The Capture clip is a secure, convenient, and accessible way to carry your camera. Capture keeps your camera stable while hiking, biking, or moving around anywhere you choose. Capture includes 2 components: a metal clip that clamps to any backpack strap, belt, or bag, and an Arca tripod-compatible plate that screws into the bottom of your camera. I often use this attached to the strap on my rucksack for quick access whilst hiking, gone are the days when my camera sits in my bag and rarely comes out.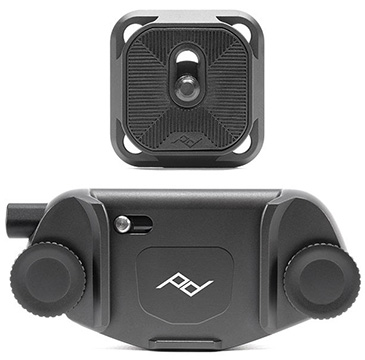 ---
5. Cases and Bags for Sony a7III
Needless to say, there are thousands of cases and bags that could be used to carry the Sony a7 III. Here I've just listed some of the most popular, including the ones that I'm using myself.
Lowepro Apex 100 AW Case
If you are looking for a case for your a7 III body-only then the Lowepro Apex 100 AW will fit the camera body without a lens attached perfectly. It includes a built in waterproof cover, a belt loop, adjustable strap and carry handle, lens cleaning cloth, internet netting for accessories, a pocket for a spare battery and also a small pocket to keep a couple of SD Cards safe.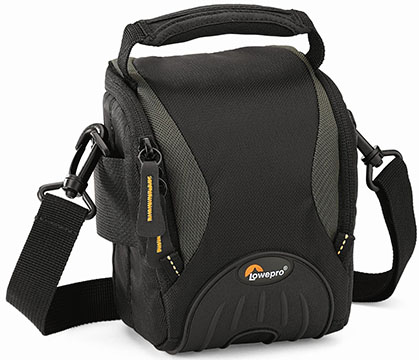 ---
Lowepro ProTactic 450 AW Camera and Laptop Backpack
The Lowepro ProTactic 450 AW is a serious backpack and one of the most popular on the market. There's plenty of room in here for the a7 Mark 3 and multiple lenses. There's also space for a 15″ laptop. The straps are well padded and there's a built-in waterproof cover to keep your gear dry. I don't own this backpack myself, but after reading the reviews on Amazon I'm thinking that I should!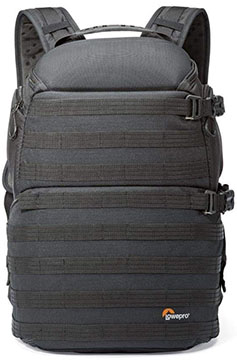 ---
Lowepro Flipside 400AW II Backpack
Another very popular choice with photographers is the Lowepro Flipside 400AW II. Like the ProTactic 450, there's plenty of room in here for your a7 and 5-6 lenses. There's also space for a 15″ laptop or tablet. The built-in waterproof cover will keep your gear dry should you find yourself caught out in the rain.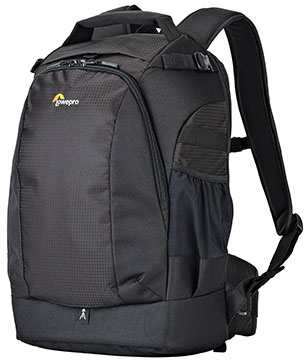 ---
Peak Design Everyday Messenger 13 V2
The Peak Design Everyday Messenger 13 V2 is a serious messenger bag. It features a MagLatch closure, origami-inspired FlexFold dividers, weatherproof expandable protective shell (400D nylon canvas) and hyper-adjusting internally padded seatbelt strap. There are dedicated Peak Design Capture clip attachment points and front access panel. You can easily pack your a7 inside and a couple of lenses with room left for accessories as well as a 13″ laptop.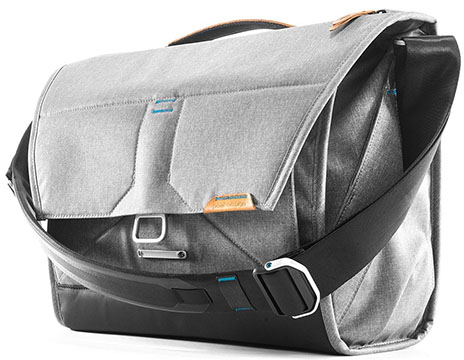 ---
Peak Design Everyday Backpack
The Everyday Backpack from Peak Design provides great accessibility, expandability, and organization of your Alpha gear. The MagLatch provides lightning fast top access, and there's dual side-loading via two weatherproof side zips. Integrated luggage carry makes this bag equally suited for daily commutes and extended travel. There are internally padded accessory pockets to help keep small items in place and a dedicated sleeve for up to a 15" laptop, tablet, and documents. You also never need to worry about your gear getting wet since it features a weatherproof 400D nylon canvas shell. I don't own this bag, but it is definitely on my list for when I win the lottery as it's not cheap. The Everyday Backpack is available in both 20L and 30L sizes, as well as 4 different colors.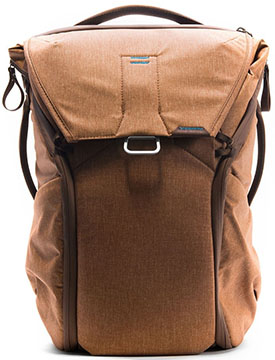 ---
F-stop Ajna
The F-stop Ajna is the successor of the Loka. With 40 liters of storage space and carry-on compliant size, the Ajna is a very useful backpack. I own the Red Bull addition of this pack and can definitely attest to its quality. The bag is extremely well made, robust, and waterproof without the need for an additional rain cover. I can easily carry both my a7III and a6300, and still have plenty of space for up to 6 lenses and accessories.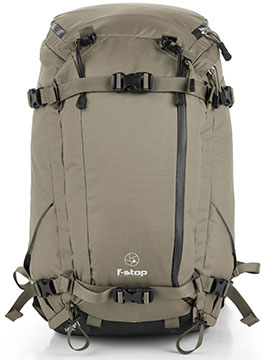 The bag does not include any ICU's (Internal Compartment Units), these need to be purchased separately. I'm using the Slope Medium ICU and it's a perfect fit. My only complaint with this bag is that it's not really comfortable when fully loaded for long hikes, which is really what it's designed for! I hiked 8 hours with this rucksack and sorely regretted it afterwards. It's fine for an hour or two, but then it becomes uncomfortable due to a lack of padding in the straps and waist belt. I'd say for short hikes and carrying gear from A to B it's perfect, but forget it for longer hikes.
---
Deuter ACT Trail Hiking Day Pack 30L + F-STOP PRO ICU – SMALL
Although not designed specially as a camera rucksack, I've owned the Deuter ACT Trail for over 5 years now and it's still going strong. As well as the top opening you also have a large opening on the front, so I simply slip in an F-STOP PRO ICU – Small (or similar sized divider) and I instantly have an extremely comfortable camera backpack that's easy to access. It includes an integrated waterproof cover as well as a hydration compartment. I can happily hike all day with this rucksack, unlike the F-stop Ajna. I also prefer that it does not scream "camera bag, lots of expensive gear inside, please steal me". There's also a 40L version of this bag that I'm very tempted to purchase.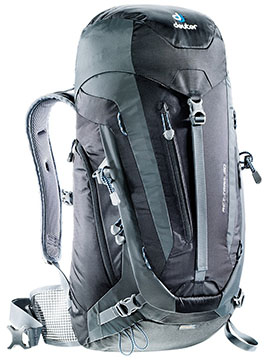 ---
6. ND and Polarizing Filters for Sony a7III
There are many different types of filters that you can use with your Sony a7iii, but two of the most popular are the circular polarizing (CPL) and the natural density (ND) filters. These filters are available as both screw-in type filters that simply screw into the filter thread on your lens, and also slot-in filters that require a filter holder. Attaching a poor quality filter to an expensive lens and camera really makes no sense, so here are some of the best filter options for your a7iii.
Breakthrough X4 Screw-in CPL Filters
Breakthrough CPL filters are color neutral so there is no color cast that will require removing in post. They are made from SCHOTT Superwhite B270® optical glass. Each side of the glass is then treated with eight layers of Breakthrough Photography's proprietary nanotec® and MRC (multi-resistant coatings) optical coatings which cause dirt and moisture to essentially slide right off of the glass itself. You won't need to look too far to find glowing reviews of these filters.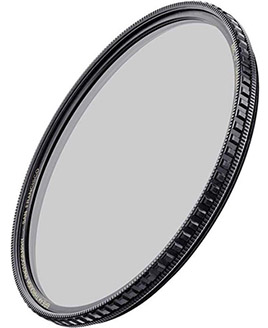 ---
Breakthrough X2 Screw-in ND Filters
Just like their CPL filter, the Breakthrough X2 ND filters are color neutral so there is no color cast that will require removing in post. The X2 ND features critically sharp H-K9L optical glass made in Japan, and incorporates their MRC8 to eliminate unwanted glare and ghosting. MRC8 is structurally harder than the glass itself, providing a protective scratch-resistant layer, shielding the glass from the elements. There is a 25-year guarantee included.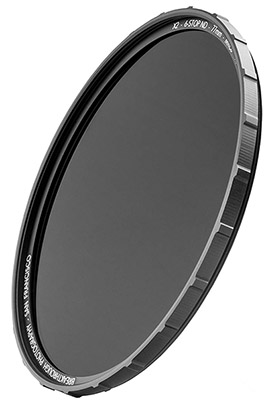 ---
Breakthrough X4 Screw-in ND Filters
A step up in quality from the X2 ND filters, the X4 filters features SCHOTT Superwhite B270® optical glass, which is an ultra clear crown glass. There are 16 layers of multicoating (8 per side with the outer being hydrophobic) compared with 8 layers for the X2. The X4 incorporates state-of-the-art nanotec® Nano Coatings Technology, which beads water and other elements rather than absorbing and smearing. There is a 25-year guarantee included.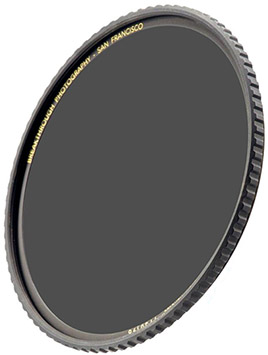 ---
NiSi 100mm System V5-PRO Filter Holder Kit
There are a number of filter holder options on the market and I'm currently using the Lee 100mm Filter Holder System myself, but I would like very much to switch to the Nisi 100mm System V5-PRO for one main reason. When using my Sony FE 16-35mm F2.8 GM lens if you have two square filters holders in place and then add the lee circular polarizer, you'll get vignetting from 16-18mm. With just one filter holder in place you'll get to 17mm without vignetting, but for 16mm without vignetting you'll need to remove both square holders leaving you with only the polarizer which kind of makes the whole system pointless. Thankfully the NiSi 100mm System V5-PRO Filter Holder has no vignetting at 16mm with the 16-35mm GM even with 2x ND filters and a CPL in place (well at least according to this thread on DPReview).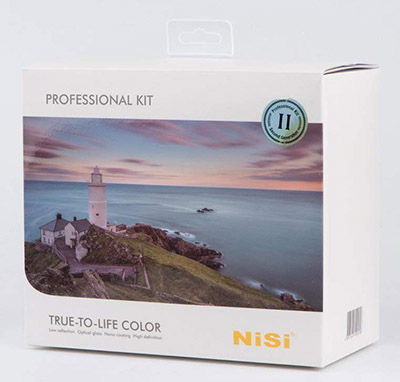 You can build the system from the ground-up by purchasing the filter holder on its own and whichever filters you would like. Alternatively you can purchase one of their kits to get you started and also save a few dollars over purchasing everything separately.
The filters themselves are excellent quality (I wouldn't recommend them if they weren't). But take a look at this review over on PhotographyLife for a closer look yourself.
---
7. Waterproof Housing for Sony a7III
If you are looking to use your Sony a7 III underwater then you will need to invest in a waterproof housing. There are a few options on the market, but you can't go wrong with the following:
Nauticam NA-A7III Underwater Housing
The Nauticam NA-A7III is probably the best waterproof housing that money can buy. If you need to dive down to up to 100m, then this is the housing for you. Full details can be found on Nauticams website.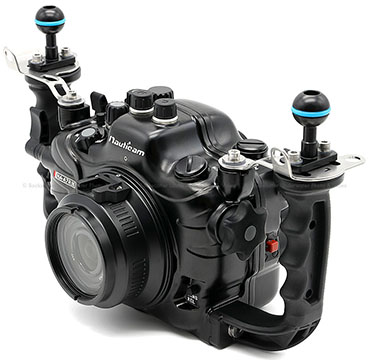 ---
Ikelite 200DL Underwater Housing for Sony Alpha A7 III
If the Nauticam is too expensive, then the Ikelite will save you around $500. But if you read around on the web, you will find that most underwater shooters prefer the Nauticam. Full details on Ikelite's website.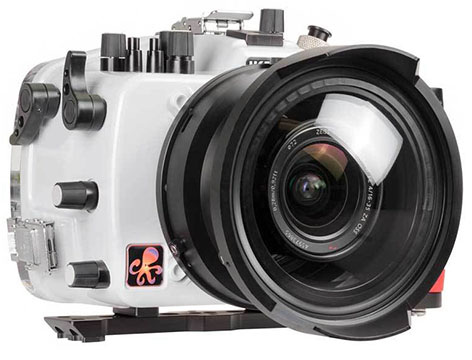 ---
8. External Flashes, Radio Receivers and Commanders for Sony a7III
The Sony a7 III does not include a built-in flash, so your only option is to go external, but don't worry as there are plenty of options to choose from.
Sony HVL-F45RM
The HVL-F45RM is a compact flash packed with plenty of features. Like the a7 III it's dust and moisture resistant, so no need to worry if the weather takes a turn for the worse. The head can be rotated 180° and tilted up to 120°. The flash is pretty powerful and offers 45m/148' (ISO 100) and a range of 24mm to 105mm.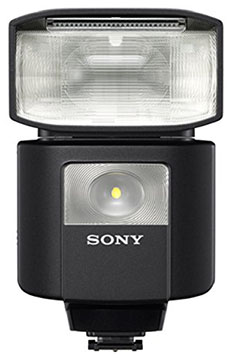 It has a built-in wireless radio-controlled system, and can be used as either a commander or receiver. As a commander you can connect up to 15 compatible flashes or receivers in up to 5 groups. Full details can be found on Sony's website.
---
Sony HVL-F60RM
Sony's flagship flash is the HVL-F60RM. More powerful than the HVL-F45RM, if you simply want a top-of-the-range flash and money is no object, then this is it. Full details can be found on Sony's website.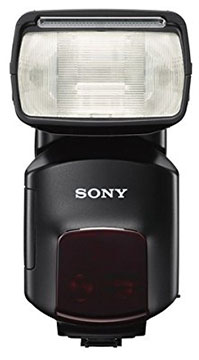 ---
Godox VING V860IIS TTL
If the price of the Sony flash units leaves you in tears, then you can dry your eyes now as the Godox VING V860IIS TTL is a much more affordable flash option for your a7 III. If you read the reviews on Amazon and Adorama, you certainly won't find too many disappointed customers.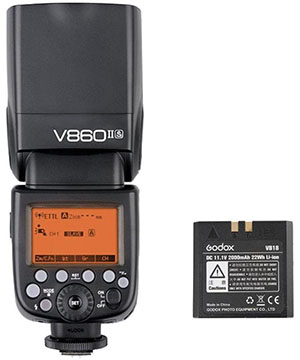 ---
Sony FA-WRC1M Wireless Radio Commander
You can use the FA-WRC1M to connect up to 15 wireless receivers (FA-WRR1) for radio wireless flash control. You can also control existing flash units like the HVL-F60M, F45RM, F43M or F32M over a range of up to 30 m (98.4 ft.). For details on how this works I recommend taking a look at Sony Ambassador Mark Galer's article.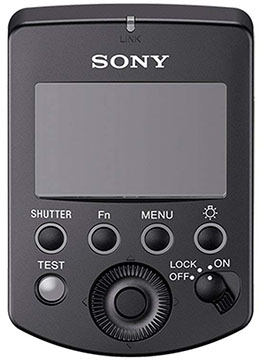 ---
Sony FA-WRR1 Wireless Radio Receiver
You can pair a maximum of up to 15 FA-WRR1 receivers with the FA-WRC1M commander. Full details on Sony's website.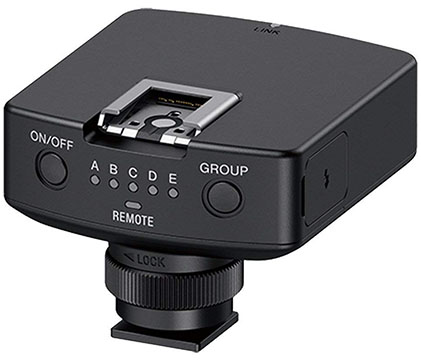 ---
9. Lens Adapters for Sony a7III
There are far too many lens adapters on the market for this article, so I'll be writing a complete guide to e-mount lens adapters very soon. Until then, here are some of the most popular e-mount lens adapters that can be used on the Sony a7 III.
Sony A-Mount to Sony E-Mount Lens Adapters
If you are looking to adapt Sony A-mount lenses to an E-mount camera, then there are two adapters from Sony that you'll want to be looking at.
Sony LA-EA3 Lens Mount Adapter
The LA-EA3 A-Mount to E-Mount Lens Adapter enables you to attach most A-mount lens to an E-mount full-frame camera body. It supports Auto Exposure (AE) and features an aperture mechanism. Unlike the LA-EA4 adapter, this does not include the AF motor.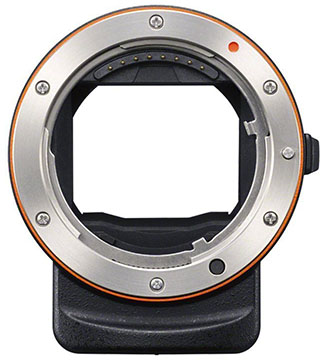 ---
Sony LA-EA4 Lens Mount Adapter
TheLA-EA4 A-Mount to E-Mount Lens Adapter enables you to attach most A-mount lenses to an E-mount full-frame digital camera body like the a7 III. The adapter features a built-in AF motor, aperture-drive mechanism and Translucent Mirror Technology to enable full-time, continuous, TTL phase-detection autofocus. AF is supported with all A-mount lenses except STF models, and auto exposure will be enabled with all compatible lenses. Teleconverters and Minolta XI lenses are not compatible.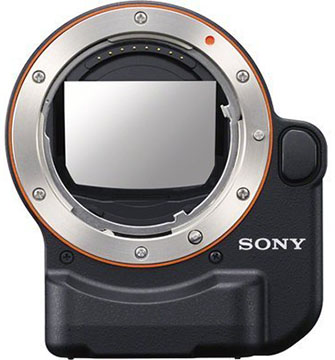 ---
Canon EF to Sony E-Mount Lens Adapters
If you wish to adapt Canon EF mount lenses to Sony E-mount cameras then the following adapters are two of your best choices:
Metabones Canon EF/EF-S T Smart Adapter
The Metabones adapter lets you mount Canon EF/EF-S lenses to Sony E-mount cameras like the a7 Mark 3. It retains electronic communication between the camera and lens to provide automatic aperture control, EXIF data, image stabilization and autofocus. Metabones regularly update the firmware that helps to improve AF performance with many Canon EF lenses.
---
Sigma MC-11 Mount Converter
The MC-11 Mount Converter enables the use of Sigma EF-mount lenses on Sony E-mount camera bodies. It supports autofocus and auto-exposure, as well as in-camera image stabilization and full EXIF data transfer. Sigma has a lens compatibility list for this adapter, but many Canon lenses also work very well although not on their list. I'd recommend a quick Google search to see which lenses people are successfully using in the forums.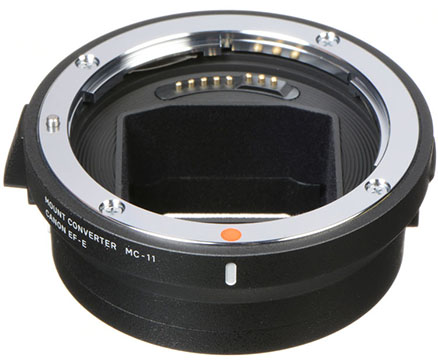 This video from Jason Lanier shows just how well the Sigma MC-11 adapter works with Canon lenses on the Sony a7 III:
---
Nikon F to Sony E-Mount Adapters
If you want to adapt Nikon F mount lenses to Sony E-mount, then there's one adapter that you might want to consider.
Commlite CM-ENF-E1 Pro
The Commlite CM-ENF-E1 Pro will let you adapt Nikon F Mount lenses to Sony E-Mount. Unfortunately it's not officially supported with the a7 III at this time, and the few reviews that I have found suggest the AF speed is pretty slow. So you might want to wait until a firmware update adds support for the a7 III.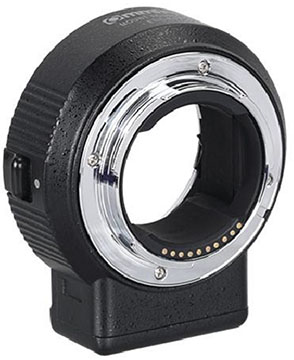 ---
10. Remote Controls for Sony a7III
If you want to reduce camera shake or take long exposures in bulb mode, then a remote control is a very handy device to have in your bag.
Sony RM-VPR1 Remote Commander
The RM-VPR1 is the remote that I'm using myself. It connects via cable to the multi-terminal on your a7 III. There's a shutter release button which can also be locked on, a video recording start and stop button, as well a zoom control rocker switch. The remote works exactly as intended and I pretty much always have it in my bag.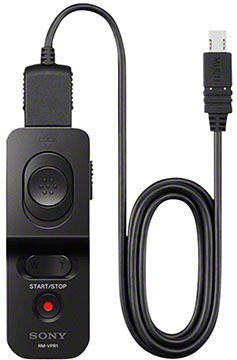 ---
Sony RMT-VP1K Remote Commander and IR Receiver Kit
If you need to trigger your shutter from a greater distance than the cabled RM-VPR1 will allow, then you might want to consider the Sony RMT-VP1K. It includes both a remote and a receiver unit. You connect the 360-degree receiver unit to your a7 III via the multi-terminal, you can then trigger the shutter remotely. Sony does not provide an operating distance between receiver and remote, but I've read reviews where people have mentioned it working up to around 6 meters. Since it uses IR technology, it will also require line of sight.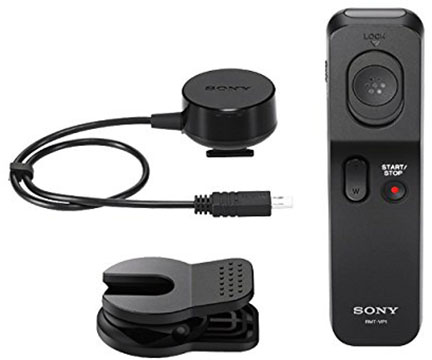 ---
Sony RMT-DSLR2 Wireless Remote Commander
If you are looking for a more simple remote control for the a7 III, then the Sony RMT-DSLR2 is a good solution. It uses infrared communication and is pretty reliable, however it does work slightly better from the right side of your camera. As well as letting you control your shutter, it also lets you to control other aspects of the camera. You can access and change menu/settings, start and stop video recording via the 'start/stop' button, and remotely review photos, delete photos, or even send photos to your printer if you have this setup. I don't own this remote myself, but other reviews state that it works at up to around 5-6 meters (18-20 feet) away from the camera.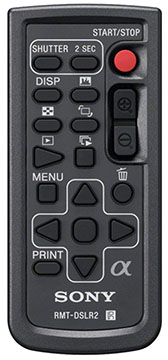 ---
11. Intervalometers + Remotes for Sony a7III
An intervalometer is a device that plugs into a camera and controls how often, how long and how many shots are taken, they are widely used for time-lapse photography. In an ideal world this simple functionality would be built into the a7III, but sadly it's not (but it is coming this April with a firmware update). In the past you could install a Play Memories App to add this functionality, but with the a7III and Sony's latest cameras this is no longer supported. So your only option now is to purchase an independent intervalometer or wait for the v3 firmware update coming in April 2019.
Pixel TW-283
The Pixel TW-283 not only works as a remote control, it also works as an intervalometer, and best of all it has a range of around 80 meters. With the intervalometer mode you can select the initial delay, exposure duration, the interval time, number of shots to take, interval repeat time and the number of cycles. The Pixel TW-283 includes both a remote and a receiver unit. The receiver can be attached to the hot-shoe of the a7 III, it then connects via Micro USB cable.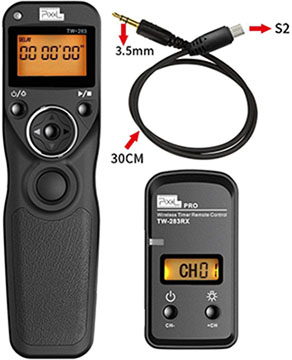 ---
12. Microphones for Sony a7III
If you enjoy making videos, then you will probably want to invest in a better microphone than the built-in stereo microphone found inside the a7 M3. Here are just some of the most popular microphones that Alpha Shooters are using today.
Rode VideoMic Pro R
The Rode VideoMic Pro R is a very popular shotgun microphone which also includes Rycote's Lyre suspension system to isolate your microphone from vibrations or rumbling when operating the camera. It connects to the camera directly using the 3.5mm input and provides a dual mono signal. I picked up one of these myself recently for my new YouTube Channel.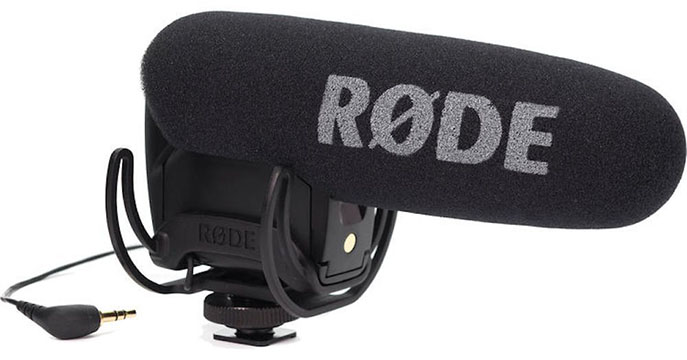 ---
Rode RodeLink Wireless Filmmaker kit
The RODELink Filmmaker Kit provides everything you need to record audio wirelessly, including a receiver, transmitter and lavalier microphone. The receiver features an OLED display with information on level, battery status (receiver and transmitter), mute and channel selection. The unit can be mounted on the a7 III hot shoe mount, a 3/8 inch thread or belt-clip. The lightweight transmitter can be fitted to a belt or clothing and features a locking thread to ensure the microphone connection is as secure as possible.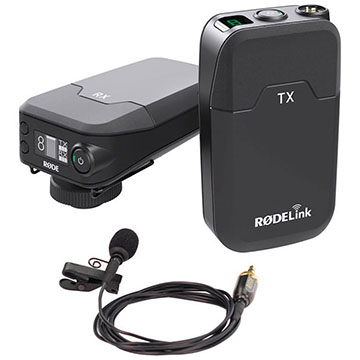 ---
Sony XLR-K2M XLR Adapter Kit with Microphone
The XLR-K2M Kit connects to the Multi-Interface hot shoe of your a7 which means you don't need to connect it to the mic-in port. It's also powered by the a7 III battery itself. It features two professional standard XLR inputs with independent level controls, and includes an ECM-XM1 shotgun microphone.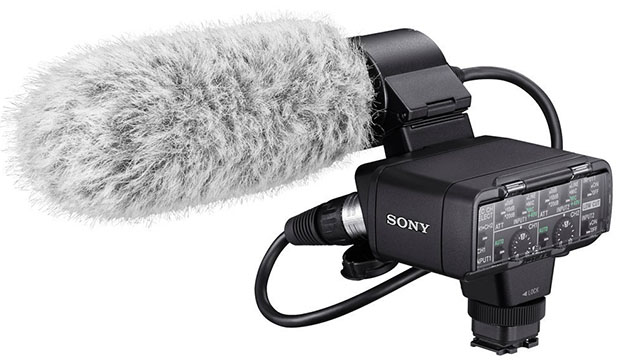 ---
Sony ECM-XYST1M Stereo Microphone
The ECM-XYST1M makes use of the Multi Interface Shoe to pass audio directly to your camera, so no additional cable is required. The directional angle of the microphones can be adjusted from 0° to 120°, allowing you to fine-tune your audio capture with precision. An included windscreen enhances audio-quality further by cutting down on wind noise.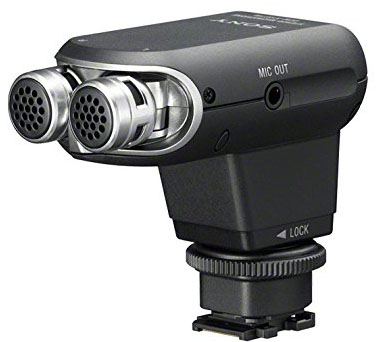 ---
13. Tripods and Monopods for Sony a7III
One of the reasons that many photographers switch to the Sony Mirrorless System and a camera like the a7III is to save weight. A lighter and small camera also means that you no longer need the largest and heaviest tripod on the market to stabilize your camera. As you most likely already know, there are thousands of tripods on the market to choose from. Here are just a few of my recommendations including the ones that I'm using myself.
Sirui W-2204 Waterproof Tripod
I've been using the Sirui W-2204 4 section carbon fiber tripod for a couple of years now and can't really fault it for the price. The rubber twist locks are rock solid and I've never had one comes loose on me, they are also waterproof and dust proof. I've used mine in rivers and along the coast and it's still going strong. It includes both rubber feet and stainless steel spikes for securing it to softer ground. There's an integrated monopod too which comes in handy at times. The center column can be split up, its height can be adjusted and it is also reversible, meaning that all shooting positions are possible. The flexibility of the center column allows ground-level shots to be taken as well as allowing the total height of the tripod to be increased. The aluminium head support plate is fitted with a set screw to secure the head and the head mounting screw quickly switches from 1/4″ to 3/8″. There's a carabiner hook too for adding extra weight for additional stability. It weighs 1.76kg and supports a maximum weight of 18kg. Maximum height is 1782mm and it folds down to 560mm.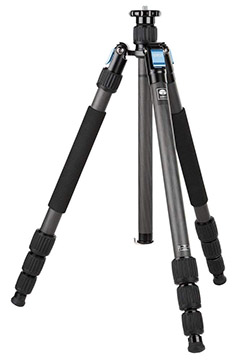 ---
Gitzo Mountaineer Series 3, 3 Section Tripod (GT3532)
If money is no object and you only want the best then it's hard to go wrong with a Gitzo tripod. I don't own one myself but would very much like to. Gitzo offer a wide range of tripods but if I were buying one I'd probably go for their Mountaineer Series 3 tripod for my a7III. The Gitzo GT3532 is a standard-height, 3-section, Series 3 carbon fiber tripod that weighs just 1.88 k, supports a maximum weight of 21 kg and reaches a maximum height of 161 cm and a minimum height of 64 cm. The tripod's rapid center column is easily removed, transforming it into a ground level tripod, it also has a reversible column mechanism. The Gitzo GT3532 three-section legs are secured by G-lock Ultra twist locks, with a built-in O-ring that keeps dirt and dust out of the leg mechanism. The tripod features a stabilizer hook on its center column to add weight and increase stability when required. Its removable feet enable it to change and adapt to any type of surface. A wide array of heads and other accessories can easily be added via the 1/4″ and 3/8″ attachment on the upper disc.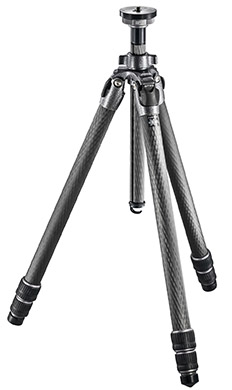 ---
Really Right Stuff TVC-33 MK2 / TFC-33 MK2 Tripods
Just like Gitzo, RRS tripods are not cheap but you get what you pay for. There are many to choose from but if I was to splash out on one it would probably be the RRS TVC-33 MK2 / TFC-33 MK2 3 leg carbon fiber tripod. The TVC-33 Mk2 is their standard-height Versa Series 3 tripod. Weighing 4.3 pounds yet capable of supporting 50 pounds. The TFC-33 Mk2 has all the features of the TVC-33 but swaps the Versa apex for a fixed apex. The fixed apex cannot be used with accessories like a quick-column but packs smaller in diameter that the TVC-33. Both versions have a maximum height of 58.6″ / 149cm and a minimum height of 4.1″ / 104mm.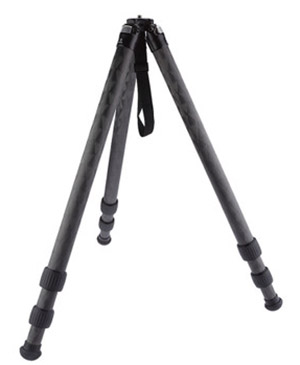 ---
Manfrotto MT055XPRO3 055 Aluminium 3-Section Tripod
If the price of the previous 3 tripods is a little too steep, then the Manfrotto MT055XPRO3 3-section aluminium tripod might be just what you are looking for. The main feature of the 055XPRO3 is its 90°centre column mechanism, which allows the column to be extended vertically or horizontally to open up a wide range of photography and video applications. It weighs 2.5kg, supports a maximum load of 9kg, extends to a maximum height of 170cm and folds down to just 61cm.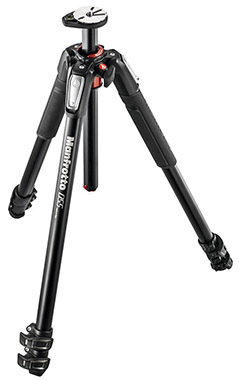 ---
Manfrotto Befree Advanced Alpha Travel Tripod
The Manfrotto Befree Advanced Alpha travel tripod is a special version of the Befree Advanced Lever dedicated to Sony Alpha Shooters. The plate is designed to match Sony a7III camera body to ensure perfect grip, even in the most angled camera shots. The front jut of the plate physically blocks the camera, preventing any play both on tilt and rotational movements, always keeping the camera stuck to the head plate. The tripod weighs 1590g / 3.5lb, supports a payload of up to 8kg / 17.6lb, has a minimum height of 40cm and a maximum height of 151cm or 128cm with the center column down. It's not been on the market for very long, but early reviews look positive.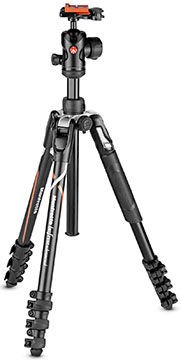 ---
Sirui T-025x Carbon Fiber Tripod with C-10S Ball Head Travel Tripod
The Sirui T-025x is my travel tripod of choice. I was using the MeFOTO RoadTrip until a friend showed me his T-025x and I was blown away by how much smaller and lighter this was than the RoadTrip, yet it still maintains very good stability and build quality. It includes the C-10S ball head, collapses to just 30cm with the head attached, and weighs just 0.88kg / 1.94lb with the head. It's capable of supporting loads of up to 6kg / 13.2 lb. It extends to a maximum height of 130cm with the center column, or 95cm without. There's a handy carabiner for attaching a rucksack to add stability as well.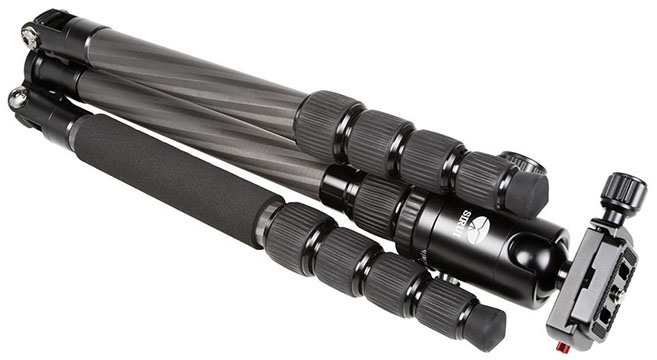 ---
MeFOTO RoadTrip Travel Tripod
The MeFOTO RoadTrip is a great travel tripod for the Sony a7III. I've owned one for over 2 years until I replaced it with the Sirui T-025x. It's only 39.1 cm when folded but extends to 156.46 cm, it weighs 1.63kg / 3.6lb and can support up to 7.98kg / 17.6lb. It comes with a precision matched Q series ballhead and Arca-Swiss style compatibility quick release plate with integral bubble level. This tripod is built like a rock and receives glowing reviews, I only replaced mine because I was looking for something a little smaller and lighter, otherwise I would have most definitely held on to it.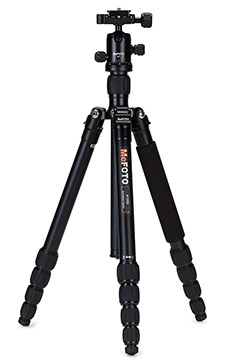 ---
Sirui P-326 6 Section Carbon Fiber Monopod
If you are looking for a lightweight yet sturdy monopod for your Sony a7III then look no further than the Sirui P-326. I've had this monopod for a couple of years now and would be lost without it. It's constructed of 6 carbon fiber sections, a non-slip rubber foot with fully retractable metal spike and it also includes a wrist strap. The head features a reversible 1/4″ & 3/8″ screw for tripod heads and cameras. It extends to a maximum height of 1550mm and collapses down to 392mm. It weights only 0.45kg and supports a maximum weight of 10kg.

---
14. Cages for Sony a7III
A cage is an open metal casing for your Sony a7III with multiple female screw threads for attaching a wide range of accessories. This effectively is the first step in creating a modular video rig setup. There are a few on the market, here are the two most popular.
SmallRig Sony a7III Cage 2087
The SmallRig 2087 Cage is designed exclusively for theSony a7III and a7R III. The cage is equipped with an eyelet for the wrist strap on the top and an integrated cold shoe. The cage is equipped with an abundance of 1/4'' and 3/8'' threaded holes. When mounted the cage does not block the cameras buttons, ports or battery compartment.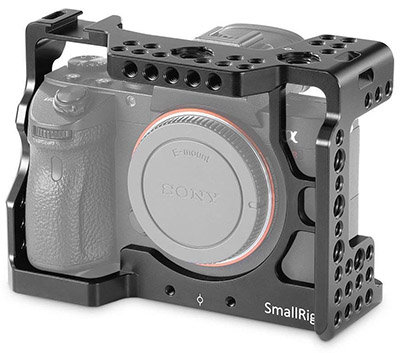 ---
8Sinn Sony a7 III Cage
The 8Sinn Cage for Sony a7III is a CNC Machined, anodized aluminum full-armored cage with integrated accessory mounting holes. The cage is designed for the Sony a7III and a7R III cameras and features a built-in cold shoe as well as slots for a hand strap. Threaded 1/4″-20, 3/8″-16, and M4 mounting holes allow you to mount accessories.. You can still access all of the cameras buttons and dials, as well as the battery and media doors with the cage in place. An included HDMI cable clamp mounts on the side of the cage and is adjustable to fit your HDMI cable.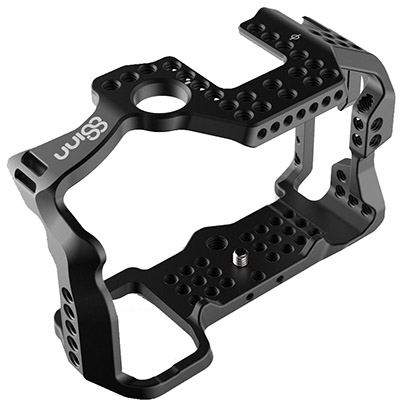 ---
15. Gimbals & Stabilizing Rigs for Sony a7III
The IBIS in the a7 III does a great job at stabilizing stills and video, but if you want the silkiest and smoothest videos possible, then you are going to need a gimbal.
Zhiyun Crane 2
The Zhiyun-Tech Crane v2 is a 3-axis handheld gimbal stabilizer offering 360° rotation along all three axes. The Crane 2 introduces follow focus control, an intuitive way for you to control focus during your shoots. Additionally, the maximum payload weight is 2.2kg / 7 lbs. Other features include a Manfrotto standard quick release plate for rapid camera mounting and a slow-fall function which protects your camera from sudden drops that may occur once the gimbal is powered down.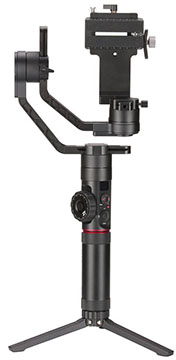 ---
DJI Ronin-S
The DJI Ronin-S is 3-axis gimbal that supports up to 3.6 kg / 7.94 lb. Early reviews look promising, but it currently sells for around $100 more than the Zhiyun Crane 2.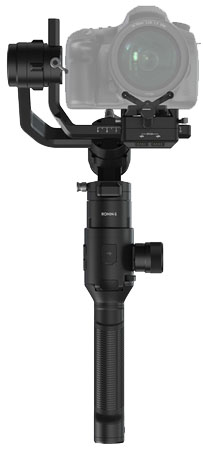 ---
DJI Ronin-M
If you are looking for a two-handed gimbal then the DJI Ronin-M will definitely be worth considering. The Ronin-M 3-Axis gimbal is suitable for loads up to 3.6kg / 7.94lb. It uses brushless motors that work on three axes: one for side-to-side "roll" (keeping the horizon level), one for tilt, and one for pan. The system is computer-controlled and features a tilt range of 105° up / 165° down plus a roll range of ±110°. In addition to handheld shooting, the gimbal can be used in vehicle mounting scenarios and other contexts where vibrations or other abrupt movements would make tripods and rigid camera support systems unsuitable.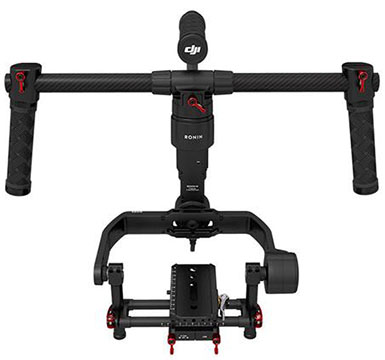 ---
16. HDMI Recorders and Monitors for Sony a7III
There are times when shooting video that a larger monitor makes life so much easier, and sometimes an additional recorder can be useful to eliminate your camera's internal compression and time recording limits. On the a7III you can only record video for a maximum of 30 minutes before you need to create a new recording, with an external recorder you can record for hours.
Atomos Ninja V
The Ninja V displays 10+ stops of dynamic range in realtime from Log/ PQ/HLG signals. This helps you to see your images clearly in bright daylight on the near edge-to-edge anti-reflection screen. You can also eliminate your camera's internal compression and time limits and record 4K HDR video direct from the a7III over HDMI 2.0. With an 1TB AtomX SSDmini (sold separately) you can achieve up to 150 minutes of 4K recording on a single drive! It supports both ProRes and DNxHR recording formats. I recently picked up a Ninja V myself and have been using it to record the viewfinder output from my Sony cameras, mainly for YouTube videos. My only complaint is that the fan is a little noisy and is picked up by the microphone far too easily.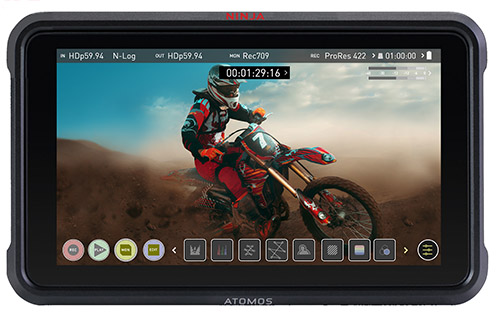 ---
Sony CLM-FHD5
The CLM-FHD5 features a native resolution of 1920 x 1080 and an HDMI input to display the full HD signal out of your a7 III. The 5″ display features enlarging and peaking for precise focusing, false color and video level marker for exposure adjustment assistance, and S-Log display. It supports W, M, and V-type batteries, and also supports an optional AC power adapter. The monitor includes a hot shoe mount and sun hood that protects the monitor from glare. There is no recording option, this is purely for display only.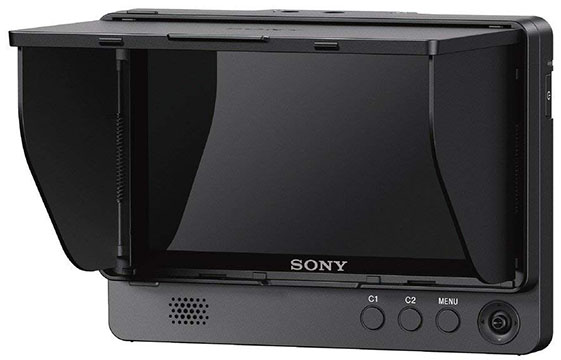 ---
17. Tethering for Sony a7III
If you want to tether your a7 III to a display, then you'll want a good quality USB Type-C cable.
Tether Tools TetherPro
Tether Tools offer some of the best tethering cables on the market, and their new USB-C tethering cables are a great match for the Sony a7 III.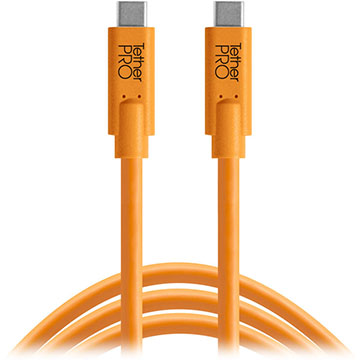 ---
18. SD Cards and Card Readers for Sony a7III
There are hundreds of different SD Cards on the market, but some do shine more than others. I have a collection of both Sony SF-G (UHS-II) cards for using in slot one of my a7 III. Then I normally use the SanDisk Extreme Pro (UHS-I) in slot 2. I've never had any trouble with any of these cards (touch wood).
Sony SF-G32/64/128 T1 High Performance SDXC UHS-II Class 10 U3 Memory Cards
If you really want to make the most of the single UHS-II SD Card slot on the a7 III, then you are going to need a compatible UHS-II card. The Sony SF-G cards are one of the fastest available. I've been using these in my a7III for a while now and have zero complaints.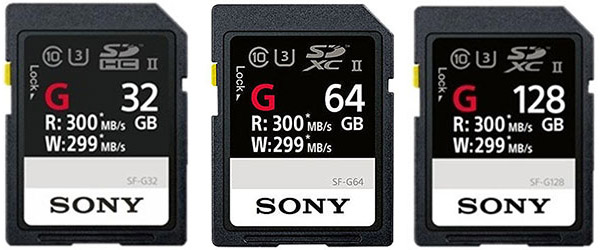 ---
Sony Tough SF-G32/64/128T High Performance SDXC UHS-II Class 10 U3 Memory Cards
The new Sony SF-G Tough Series of UHS-II SD cards aare targeted at photographers who want the best possible protection for their images. They are 18 times stronger than standard SD cards, bend proof to 180N, drop-proof to 5 meters, waterproof to a depth of 5 meters for up to 72 hours (IPX8 rating), and dustproof with an IP6X rating.
The cards feature a one-piece ribless structure and don't have the common lock switch. On top of this they are also X-ray proof, magnet proof, anti-static and temperature proof. Just like the Sony SF-G UHS-II cards above, they also have read speeds of up to 300MB/s and write speeds of up to 299MB/s.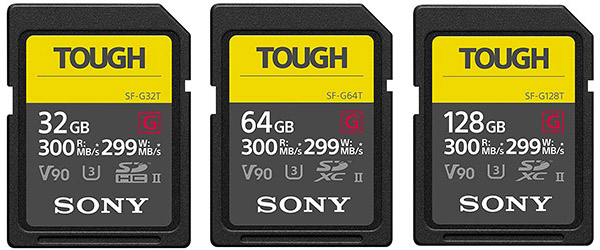 ---
SanDisk Extreme Pro SDHC UHS-I Memory Cards
The second memory card slot in the a7 III only supports UHS-I SD Cards, so for this slot I'd recommend using the SanDisk Extreme Pro cards.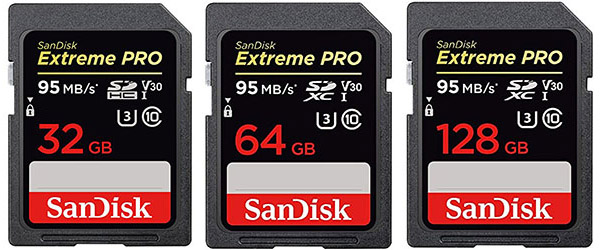 ---
Sony MRW-S1 High Speed UHS-II USB Memory Card Reader/Writer
Sony's MRW-S1 UHS-II USB SD Card Reader/Writer enables the fast transfer of data via a USB 3.1 interface. It can read/write to UHS-II SD Cards and is backward compatible with UHS-1 SD cards. It's been designed with the Sony UHS-II SF-G series SD cards in mind which have speeds up to 300MB/s read and 299MB/s write. The MRW-S1 together with Sony SF-G cards can transfer files to and from your computer at around 2.6x faster than UHS-1 cards.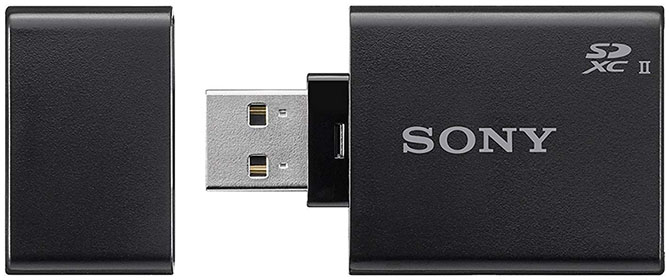 ---
Beeway Water & Shock Resistant Memory Card Case
I don't go anywhere without my Beeway SD Card holder. It holds 12 SD/SDHC/SDXC cards and 12 MicroSD cards perfectly in place. The case is water resistant and very strong. It also includes a small bag and a carabiner. It really is great value for the price.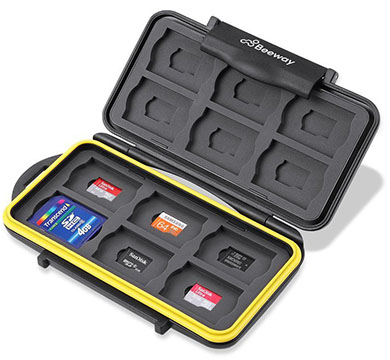 ---
19. Camera & Sensor Cleaning for Sony a7III
Unless you want to spend ages faffing around in Photoshop to remove lens or sensor dust, it really is worthwhile trying to keep your gear clean. Since the sensor in the a7 III is exposed every time you change a lens, it won't take long before it picks up some dust particles. However, you are unlikely to see these spots in your shots when shooting wide open, but if you step down to f/11 or higher they will soon become visible. Here are the tools that I recommend to keep your gear clean and shots blemish free.
Rocket Air Blaster
If you don't already have a Rocket Air Blaster in your bag then this should definitely be your first purchase. It's great for blowing dust off lenses and from your sensor. Mine goes with me everywhere.

---
VSGO Full-Frame Sensor Cleaning Kit
There's really no need to send your a7 III off to get the sensor cleaned, with this kit you can easily and safely do it yourself for a fraction of the price. Before you start, shoot a piece of white paper with the aperture set at f/22 or higher, this will show you exactly where the dust is located on the sensor.
---
Microfiber Cleaning Cloths
Very soft and lint free microfiber cleaning clothes are definitely as essential item for any photographer, you can never have too many of these.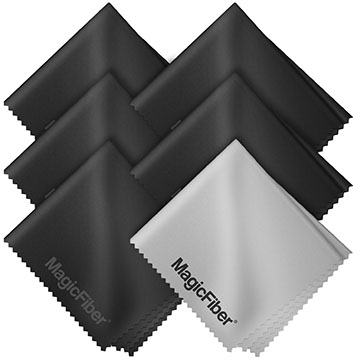 ---
Care Touch Lens Cleaning Wipes
Some good quality lens cleaning wipes are vital if you wan't to keep your glass blemish free. They are also useful for cleaning your cameras body, LCD screen, as well as any filters you may have.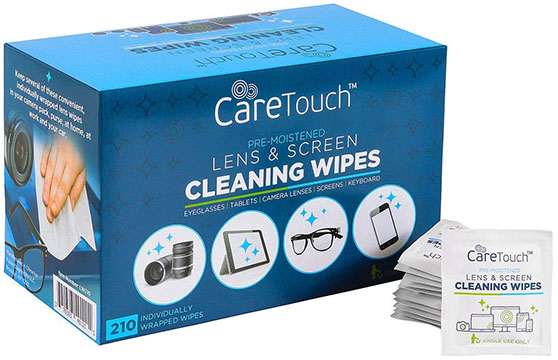 ---
20. Replacement Parts for Sony a7III
There are a handful of parts on the a7 III that you can easily replace yourself, these include:
Sony FDAEP18 Eyepiece Cup
The eyepiece helps to keep out external light to enhance the clarity when using the viewfinder. If you lose yours, it's very easy to replace.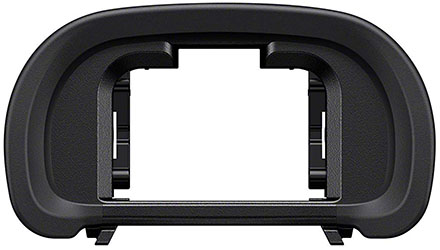 ---
Sony ALC-B1EM Replacement Body Lens Cap
If you have lost your a7 III lens cap then you'll be glad to know that the replacement is very cheap. It's always handy to have one of these spare too.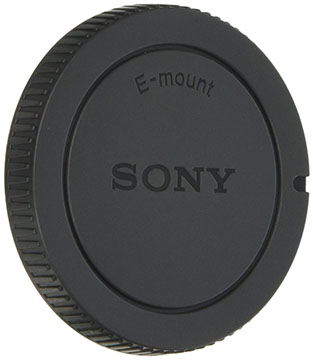 ---
Sony FA-SHC1M Multi Interface Shoe Cap
It's important to to keep the multi interface hot shoe cap in place to protect the electrical contacts, as if these get wet there's a risk of shorting out your camera. I know it's a very small accessory and far too easy to lose, so make sure you have at least one spare.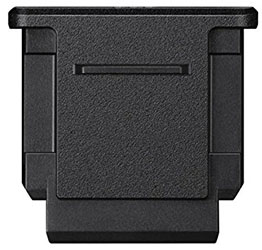 ---
21. Storage and Backups for Sony a7III
Samsung T5
The Samsung T5 is a tiny portable SSD drive. It's available in 250GB, 500GB, 1TB and 2TB capacities. I use this as a short-term storage solution. It's my primary backup device whilst travelling, and I also use it to work on files at home before backing them up to my Synology box.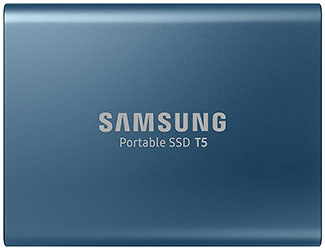 ---
Synology DS218+
I've been using the Synology DS218+ for over 6 months now and couldn't be happier with it. It's a Network Attached Storage device that supports a maximum of up to 24TB of storage (using 2x 12TB disks). However, you will probably want to configure this as RAID 1, so this will half the storage that you have available to you. You can also configure the DS218+ to sync all of your files with various cloud storage platforms. Full details can be found on Synology's website.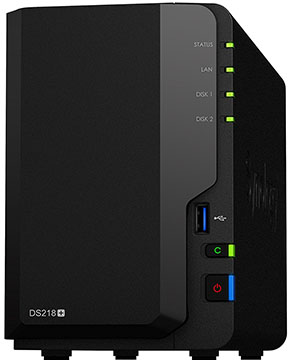 ---
Cloud Backup

Unless you have a very slow internet connection, backing up all of your photos to the cloud is really a no brainer. I'm using DropBox which syncs nicely with my Synology DS218+. But other options include Microsoft OneDrive, Google Drive, Amazon Drive and Box.
---
22. Sony a7 III Lenses
If you have found this guide helpful then you might also enjoy my guide to the Best Sony a7 III Lenses.
---
And that's a wrap. If you feel like I've missed any really good Sony a7 III accessories that are worth including here, or you have your own experience (good/bad) with any of the accessories mentioned, then please do let me know in the comments below.