Well Known Member
Pro Member
Pro Member
Followers

10
Following

0
Joined

Sep 14, 2020
Posts

514
Likes Received

351
Name

Mike
City/State

Illinois
I have compiled a list (not comprehensive) of popular tripod/monopod large lenses gimbals for comparison. I purchased the MOVO GH-1000 gimbal and I'm quite satisfied w performance and price point.
The only functional drawback I can find with the GH-1000 (and likely all the other models being compared), is they do not have the conventional "fluid drive" system on either axis. Therefore, it takes more practice to gain consistent skill in tracking, panning, tilting (especially for BIFs, et al) to keep a moving target in frame. Lacking true fluid drive, the friction-drag resistance can be implemented with care by tweaking the pan and tilt locking-knobs for just enough pressure to add some resistance to somewhat replicate the smooth, graceful, fluidity found in a fully fluid drive system, which smooths out start/stop and tracking movements. It appears to me that all of the gimbals compared here do not have a true "fluid drive" system but rather a friction-drag mechanical axis resistance system. Pls correct me if I'm wrong.
I had listed two MOVO models, along with other more expensive popular competitors. Comments are welcome.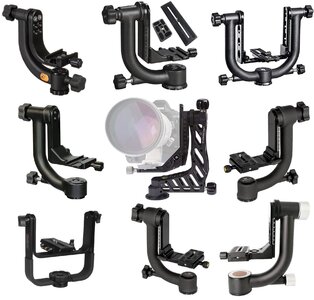 You can view PDF comparison (below) with FireFox or Microsoft Edge -- just click on thumbnail on left below:
Last edited: