Followers

51
Following

23
614
455
Mar 1, 2020
Name

Tim
Country

United Kingdom
City/State

Malvern
I've added a new feature to the forum that due to my lack of imagination is simply being called Alphagram for now. This may change if I receive some better suggestions
- Update: It has now changed to InstaView.
You can find it in the main navigation bar at the top of the page on desktop, or in the menu on mobile, or by clicking
here
.
I named it Alphagram because it works a little like Instagram and will display images that have been uploaded to the different genre forums (wildlife, landscape, portrait etc) and also direct uploads to the media gallery.
There is a simple filter that lets you filter images by category and/or members that you are following: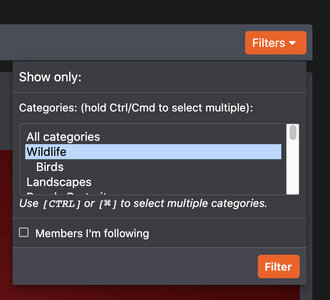 If you don't currently follow any members then you might not see any images with this option selected.
This feature is designed simply to make viewing images easier on the forum.
If images are uploaded to the forums then it will display the filename of the image at the top of the image, whereas if you upload an image directly to the media gallery and provide a title it will display this title instead. I need to look at options for allowing customised titles for forum uploads in another version.
It is a work in progress so is fairly basic right now, so feedback would be appreciated!
Cheers,
Tim
Last edited: