Samyang has just released details of their next new Sony E-mount lens for APS-C mirrorless cameras. The Samyang MF 85mm F1.8 ED UMC CS lens has been designed for mirrorless cameras with APS-C crop sensors, it's also a manual focus lens.
The suggested retail price in the UK is £319.99 and it should be available from September 2018. There are no details on US pricing at this time, but I'd image the price to be around the $320 mark.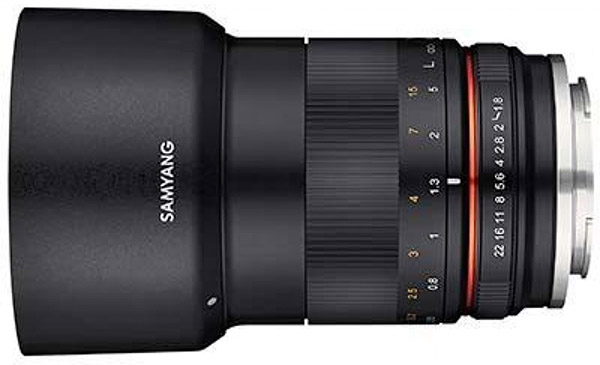 Further details can be found on Samyang's website here.
Press Release Text
Samyang unveils the MF 85mm F1.8 ED UMC CS lens for mirrorless cameras with APS-C crop sensors

Samyang Optics launches a new manual-focus lens for mirrorless shooters: The MF 85mm F1.8 ED UMC CS is designed for use with APS-C sensor mirrorless cameras in the following mounts: Sony E, Fujifilm X, Canon M, and Micro-Four-Thirds. It is competitively priced and light-weight. This medium telephoto lens inherits the renowned image quality of Samyang's manual focus series and also boasts beautiful out of focus bokeh and availability for a variety of cameras.

Ideal portrait lens, with a fast, bright maximum aperture…

This manual-focus 85mm F1.8 ED UMC CS lens is a medium telephoto lens, with a similar angle of-view to a 135mm lens when compared to full-frame cameras. The Samyang MF 85mm F1.8 ED UMC CS is designed with 9 lens elements in 7 groups and it delivers high resolution from the centre to the corners of the image. A high-refractive and an extra-low dispersion element, along with Ultra Multi-Coating (UMC) help minimise chromatic aberrations and deliver clear, vibrant images. This lens is ideal for portraits, with beautiful bokeh from its floating-element system. Its low-light performance and shallow depth-of-field are especially useful features.

Wide range of uses, with crystal-clear resolution…

The compact and light-weight design offers the portability and comfort needed for a long day's shooting. This lens would be the ideal choice for keen photographers who want to capture everyday moments in high-resolution. The Samyang MF 85mm F1.8 ED UMC CS has a host of features including its outstanding optical performance. Its wide range of uses include portraits and other close-ups such as food, as well as landscapes and many other situations.

More fun with Manual Focus lenses…

The MF 85mm F1.8 ED UMC CS lens is perfect for shooters who want to have more involvement and express their own characteristics through their images. The Samyang MF 85mm F1.8 ED UMC CS weighs in at just over 300g and measures approximately 8cm long (without the hood and lens caps). Photographers can expect superb, emotional and unique images from this compact companion.

Price: suggested retail price £319.99
Availability: From September 2018
Via: PhotographyBlog.com