The latest firmware for the Sony a6000 is now version 3.21 which improves the stability of the autofocus system.
You can download the latest Sony a6000 firmware from Sony's support sites: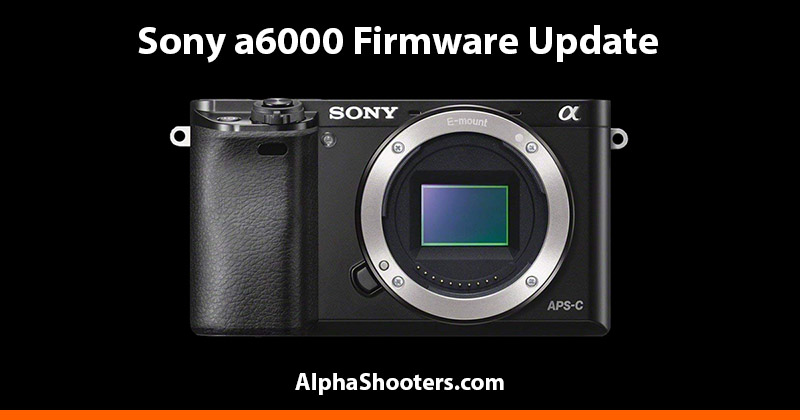 Benefits and Improvements With Firmware Version 3.21
Improves stability of the AF operation
The following benefits and improvements from previous firmware updates are also included with v3.21:
v3.20 (7-26-2016): Optimizes the performance of lens SEL70200GM
v3.10 (3-17-2016): The system software update for optimizing the new lenses performance. (Applied to lenses released after 2016 March)
v2.00 (6-16-2015):
Startup time is shortened.
This update enables shooting movies in 60p/30p/24p due to the XAVC S format that supports high bit rates.
For NTSC model: 60p/30p/24p
For PAL model: 50p/25p(PAL mode),60p/30p/24p(NTSC mode)
When shooting a movie in the XAVC S format, ensure that an SDXC card of Class 10 or faster is used after formatting the card using the unit updated with the system software.
If you format the memory card, all the data will be erased. Please ensure that the data on the card is backed up before formatting.
v1.21 (4-6-2015): Improves camera function and provides picture improvement for the new lenses (SEL35F14Z, SEL24240, SEL28F20, SEL90M28G)
v1.10 (10-30-2014): Improves the power-on time after downloading the Smart Remote Control application of the PlayMemories Camera Apps™
Helpful Sony a6000 Resources
Before You Go
Please do check the Alpha Shooters groups that I run on Facebook. There are friendly niche groups for the following:
Sony A6400 Shooters
Sony Alpha Landscape Shooters
Sony Alpha Portrait Shooters
Sony Alpha Wedding Shooters
Sony Alpha Wildlife Shooters
Sony Alpha Sports Shooters
Sony Alpha Urban / Street Shooters
Sony Alpha Macro Shooters
Sony Alpha Video Shooters
Sony A7III Shooters
Sony Alpha Shooters Group (Everything Alpha)
* Affiliate Links
Within this article there are affiliate links (denoted with #afflinks). If you decide to buy something after clicking a link I may receive a small commission at no extra cost to you. For more information on affiliate links click here. Thank you.