Firmware version v2.00 has now been released for the Sony a6400. This firmware update adds real-time Eye AF for animals (my setup guide), support for the RMT-P1BT wireless remote commander (my setup and user guide), as well as improving the overall stability of the a6400.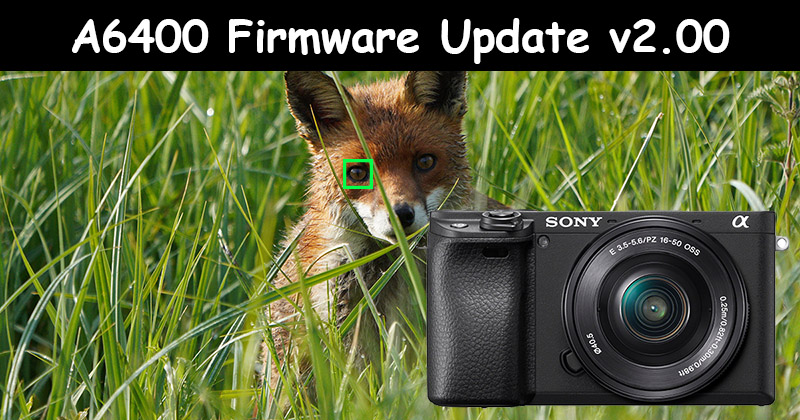 You can download firmware v2.00 from the following Sony support sites:
US: (#afflinks) Sony a6400 Support Site
UK: (#afflinks) Sony a6400 Support Site
Make sure you follow the install guide tips on the download page, especially for Mac computers as it's not so simple. I'd recommend navigating to your local Sony support site if your native language is not English. Also it's best to use the micro usb cable that came with the a6400 for the update.
If you are struggling with installing it on your Mac then Jason Vong's YouTube Video is also helpful.
For help on using Animal Eye AF please refer to the relevant section in the a6400 online help guide.
Once you have installed the firmware update you might find my following Animal Eye AF setup guide helpful:
One small tip: To detect animal eyes, arrange the composition so that both eyes and the nose of the animal are within the angle of view. It does work sometimes with just one eye in view, but works better with two. It also works best on animals with cat and dog like faces, don't expect it to work well on birds.
Sony a6400 Firmware v2.00 Benefits and Improvements
Adds real-time Eye AF for animals

Please Note:
Detecting human and animal eyes simultaneously is not supported
Depending on the environment, animal type, and the movement of the animal, eye detection may not be possible

Adds support for the RMT-P1BT wireless remote commander (sold separately)
Improves the overall stability of the camera
My Sony a6400 Resources
* Affiliate Links
Within this article there are affiliate links (denoted with #afflinks). If you decide to buy something after clicking a link I may receive a small commission at no extra cost to you. For more information on affiliate links click here. Thank you.