Sony is not providing the traditional PDF manual for the Sony a6400. However, I'd actually recommend looking at the Sony a6400 Online Help Guide instead of the manual even if it were available, since these days the online guide covers the camera functions in more detail than the PDF manual usually does and it's also much easier to navigate.
You can also download the a6400 Online Help guide in PDF format here, as well as the Sony a6400 Startup Guide. Sony has also created a number of very helpful a6400 tutorials that I definitely recommend checking out.
My Sony a6400 Resources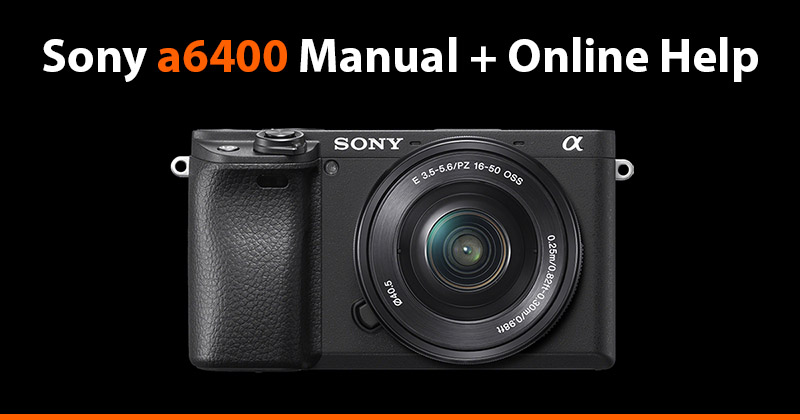 Sony a6400 Guide Book
If you prefer to hold a nicely formatted book in yours hand rather than a PDF manual or online help guide, then I can highly recommend David Busch's Sony a6400 Guide Book.
The Sony a6400 Online Manual Covers the Following Topics
Preparing the Camera
Shooting
Recording Movies
Viewing
Customizing the Camera
Using Network Functions
Using a Computer
List of Menu Items
Before You Go
If you are on Facebook please do check the following friendly Alpha Shooter groups that I run:
Sony A6400 Shooters
Sony Alpha Shooters Group (Everything Alpha)
Sony Alpha Landscape Shooters
Sony Alpha Portrait Shooters
Sony Alpha Wedding Shooters
Sony Alpha Wildlife Shooters
Sony Alpha Sports Shooters
Sony Alpha Urban / Street Shooters
Sony Alpha Macro Shooters
Sony Alpha Video Shooters
* Affiliate Links
Within this article there are affiliate links (denoted with #afflinks). If you decide to buy something after clicking a link I may receive a small commission at no extra cost to you. For more information on affiliate links click here. Thank you.