Pre-orders have now started for the new Tamron 17-28mm F2.8 Di III RXD lens for Sony full-frame E-mount.
The lens has gone on sale for $899.99 in the US and £899.99 in the UK, and it will be available for shipping in late July. This makes it around $1300 cheaper than the Sony FE 16-35mm F2.8 GM lens!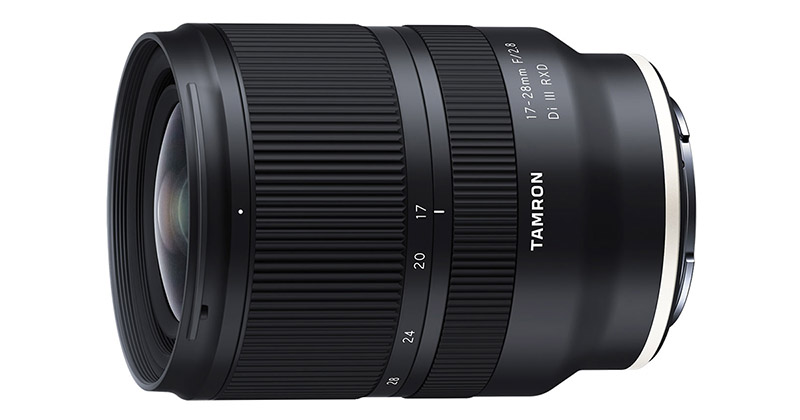 The 17-28 is 9cm (3.9″) long and weighs in at 420g (14.8oz.). Both zoom and focus are internal so doesn't extend, the lens is also sealed against dust and moisture.
The lens has a total of 13 elements, including two low-dispersion and one extra-low-dispersion element. It has a BBAR coating to reduce ghosting and flare and a fluorine coating to resist fingerprints and moisture. It has a minimum working distance of 19cm (7.5″) and maximum magnification of 0.19x. The lens is threaded for 67mm filters, which is the same filter size as the Tamron 28-75.
If this lens turns out to be as well made and popular as Tamron's very successful 28-75mm F/2.8 Di III RXD, then expect availability to be limited for months ahead.
There's a great review already available from KROLOP & GERST on YouTube where they also compare it with the Sony FE 16-35mm F2.8 GM. You can also view sample images on their blog post here (in German).
You can find the full press release from Tamron here. Or visit Tamron's website for further details and sample images.
Will you be buying this lens or would you still be willing to pay $1300 more for the Sony FE 16-35mm F2.8 GM lens?
* Affiliate Links
Within this article there are affiliate links (denoted with #afflinks). If you decide to buy something after clicking a link I may receive a small commission at no extra cost to you. For more information on affiliate links click here. Thank you.