Sony has announced the RMT-P1BT, a new Wireless Remote Commander that provides wireless control of Sony camera systems using Bluetooth connectivity.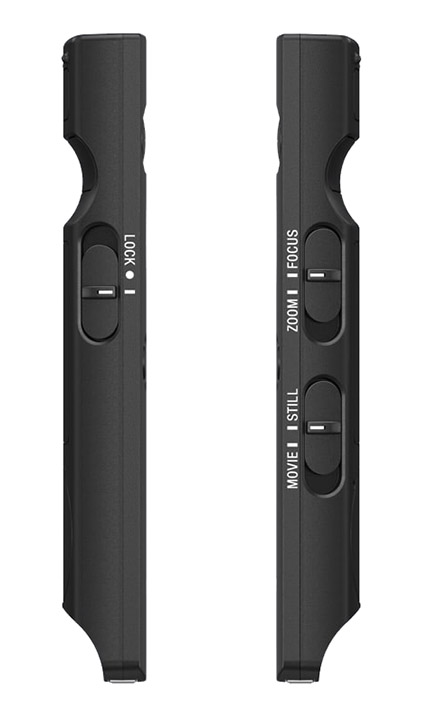 It's important to note that this remote is currently only planned to be supported on the new Sony a6400, the a7III, a7R III, and a9 cameras, and they will require a yet unreleased firmware update for it to work. However, by the time the RMT-P1BT ships (EU in April, US in May) the firmware updates should be available for the a7III and a7R III, but a6400 and a9 shooters will have to wait till the summer for the firmware update. Compatibility information is available here.
The remote operates using Bluetooth connectivity which provides a reliable connection even in bright sunlight or when there are obstacles between the commander and the camera.
It features a fast 0.05 seconds release time and an external LED that flashes or lights continuously to show shutter, movie recording and AF status.
The remote covers essential camera controls: focus buttons for precise control of even subtle focus changes, a lock switch that prevents accidental operation during transport, movie recording start/stop and power/digital zoom. There are also two custom buttons that mirror the functions of the C1 and AF-ON buttons on the camera body.
The RMT-P1BT Wireless Remote Comander will ship this April for $80 / £65 / €75.
You can view the full press release here, or find further details on Sony's website.
Please Help Me to Keep Alpha Shooters Going and Growing
I don't like to ask for PayPal donations but you can easily support this site by purchasing your gear through the affiliate links (denoted with *) on this page or visiting the Alpha Shooters Amazon Store (US Only) to check out my recommended Sony Alpha Gear and Accessories. If you buy something after clicking a link I may receive a small commission, but don't worry as the price still remains the same for you. If you do choose to buy through my links, thank you very much for your kind support and I look forward to seeing your shots in one of the many Alpha Shooters Facebook Groups that I run.